Ford board aims to pin down CEO Mulally's plans
Updated: 2013-12-12 15:30
Ford Motor Co's board of directors plans to press Chief Executive Alan Mulally soon for a decision on his future, as speculation intensifies that he may be offered the job of CEO at Microsoft Corp.
Mulally, 68, is one of a handful of candidates still in contention for the Microsoft role, according to several sources close to the technology giant, and he has not tried to dispel talk that he is interested in the job.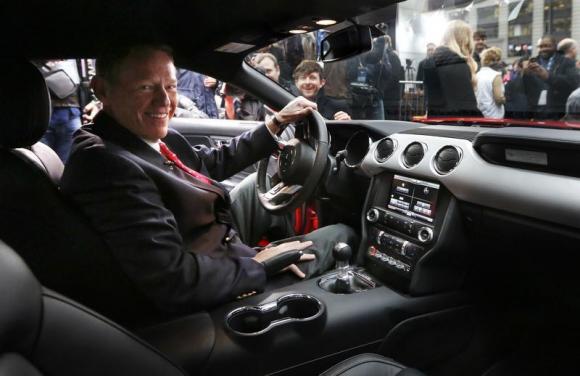 Ford Motor Co CEO Alan Mulally sits in the driver seat of its all new 2015 Ford Mustang on ABC's Good Morning America in New York December 5, 2013. [Photo/Agencies] 
That has begun to vex some on Ford's board, two sources told Reuters this week, and the issue will be discussed when the board meets in the Detroit area on Thursday.
Mulally is a board member but it is not clear if he will attend the board meeting. The sources said that directors intended to raise the issue with him this week or next.
That has led to frustration and a desire for clarity, the source said.
Microsoft declined comment on the progress of its CEO search, and a Ford spokesman repeated earlier statements that Mulally is slated to stay as Ford CEO through 2014, although it emerged in September that the board would be open to him leaving earlier than that.
Mulally, credited with reviving Ford's fortunes since taking the helm in 2006, has already scaled back his involvement at the automaker this year, allowing younger executives to take a more prominent role, several people close to the automaker said.
Even if Mulally does not take the Microsoft job, it is unlikely he will stay at Ford through the end of next year, the two sources said. The board has gained confidence in Chief Operating Officer Mark Fields, a 24-year Ford veteran who is widely expected to be the next CEO.
Mulally, poached from Boeing Co in 2006 to steer the US automaker's turnaround, is credited with driving a culture change that saved Ford. That has made him an attractive candidate for Microsoft as the tech behemoth struggles to make a mark in the mobile-computing era.
But the speculation over whether he will take the Microsoft job has been a distraction for Ford, the sources said. The automaker is on the cusp of several key launches next year, including a risky and radical overhaul of one of its most profitable vehicles, the F-150 pickup truck.
On top of that, rival General Motors Co put the topic of auto industry leadership firmly in the spotlight on Tuesday with the surprise announcement that long-time insider Mary Barra would become its next CEO.
Microsoft has said little in public about its search for a new CEO after Steve Ballmer announced his plan to retire four months ago. Several vocal investors have championed Mulally as a powerful, motivating figure who proved at Ford that he can bring cohesion and direction to a sprawling organization. But he is only one of a "handful" of candidates for the job, sources close to the matter said on Wednesday.