Driving onward in a competitive race
Updated: 2013-12-12 10:09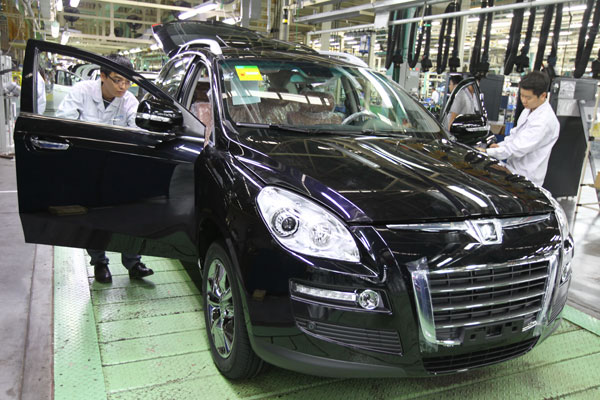 Dongfeng Yulong's assembly lines for its Luxgen 7 SUV vehicles. [Lu Zhongqiu / China Daily]
How company is achieving its vision of luxury Chinese cars
Hsin-Fa Wu has spent all his 30-year career at Taiwan-based automobile manufacturer Yulon Motor Co Ltd.
"When I devoted myself to the automotive industry and Yulon after I graduated as an engineer in mechanics, I dreamed of helping to enable the Chinese to drive our own self-developed high-quality cars someday," said Wu. "I wouldn't have quit the industry and the company until I made it happen."
Now, as president of Dongfeng Yulon Motor Co Ltd, a 50-50 joint venture between the Chinese mainland's second-largest automaker Dongfeng Motor Group and Taiwan's Yulon Motor, Wu said his dream has been refined to try to make Luxgen, the new brand under the venture, a renowned Chinese auto brand across the entire globe.
"More importantly and significantly, Luxgen will be the first self-developed vehicle brand jointly produced by the Chinese from both sides of the Straits," said Wu, who dresses like any other employee in the company. "I am proud of doing it."
Run a different way
Being a technician was the first job for Wu in 1983, after he graduated in 1981 and did a two-year stint in the army.
"As that time, the vehicles were all from Germany and Japan. Yulon, which built Nissan models under license, started from zero for its first self-developed model called Feeling," said the president, who was a member of the research and development team.
To take the Feeling model for a trial, Wu, in early 1990, went to Dongfeng's test ground in Shiyan, in Hubei province. "It took me a whole day to get there, being the first Yulon person to make contact with Dongfeng."
Although it only sold 20,000 units, Feeling proved Yulon's capability for producing cars. After that, Wu led the team to co-develop another sedan with Japanese partner Mitsubishi Motors. "That kicked off my long way toward the development of a true Chinese car," he said.
Dedicated conscientiously, from engineer, marketing and sales to management for 25 years in Yulon, Wu was appointed the leader for the Dongfeng Yulon project in 2008 and then took the president's position of the newly established venture in 2010.
After two years of unexpected high annual growth of 46 percent and 32 percent in China's domestic automobile market in 2009 and 2010, respectively, vehicle sales suddenly braked in 2011 and 2012 with nearly stagnant growth.
"And we were also facing the challenge that nearly all foreign automakers have established themselves successfully in China and dominate more than 80 percent of the market share," said Wu. "Even the homegrown Chinese domestic brands were struggling for survival in such a fiercely competitive market, so how could we, a brand new company, find a silver lining in this sea of red?"
The president found out that there is still a niche sector between the international brands and China's homegrown brands.
"We positioned ourselves as a high-end innovative Chinese brand from the very beginning and created Luxgen, a combination of 'luxury' and 'genius'," he said. "And the logo of the brand, a human shape, also indicated that the Luxgen brand is people-oriented and user-friendly."