VW launches new five-year 'green' plan
Updated: 2012-12-03 05:10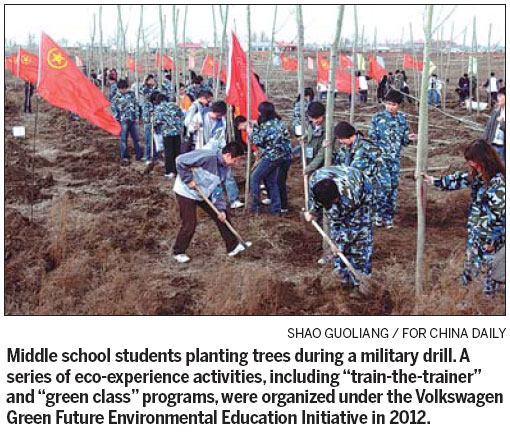 German automaker Volkswagen is embarking on another long-term commitment to educate the young generation of Chinese about the environment.
Volkswagen Green Future Environmental Education Initiative, a program jointly initiated by the Center for Environmental Education and Communications, under the Ministry of Environmental Protection, and Volkswagen Group (China), is a second five-year "green" project undertaken by the company.
Between 2012 and 2016, Volkswagen Group China, working closely with the environmental education center and Youth Nature and Biodiversity Conservation Union from Germany, will work to bring its "eco-experience" environmental education concept and model to China.
The project has been launched in Chengdu this year and gradually spread across China.
"The construction of a biological civilization is an important focus for China's environmental education and communications," said Jia Feng, director of the center.
"The biological civilization concept emphasizes harmony between man and nature. The seed of this idea is a shift in perspective from that of conquering nature to one of respecting and caring for nature," he added.
According to Jia, the first step in adopting this perspective is to experience nature.
"Promoting the 'eco-experience' environmental education and model in China will help create a favorable social atmosphere for our construction of a biological civilization and facilitate the construction of a national education base," said Jia.
A series of eco-experience activities, including "train-the-trainer" and "green class" programs, have been organized under the Volkswagen Green Future Environmental Education Initiative in 2012.
As the first step of the new project, more than 30 staff from environmental education bases across China completed two days of training in eco-experience theory and practice under the guidance of Youth Nature and Biodiversity Conservation Union experts.
The participants will serve as "seeds" for the project and bring the eco-experience model to their respective bases.
Afterwards, Youth Nature and Biodiversity Conservation Union experts, together with their Chinese colleagues, will lead local students from primary and middle schools to Chengdu's Shixiang Lake scenic spot, where the children will work in teams, closely interacting with the world of natural waters, forests and flora.
According to the plan, more eco-experience training will be held under Volkswagen Green in education bases nationwide. The volunteer team will also be expanded, drawing in enterprise employees, college students and environmentalists as "nature tutors".
Social participation in outdoor environmental education will develop the eco-experience into a mass program and lifestyle that will cultivate environmental education efforts across China.
Originating in the US and Europe in the 1970s and 80s, the eco-experience evolved into a mature model for environmental education in Germany. It encourages participants to learn and understand Mother Nature, cultivate a love for life and join in nature conservation efforts.
As one of the largest and most active environment non-governmental organizations in Germany, Youth Nature and Biodiversity Conservation Union has a strong record in eco-experience education, having conducted a large number of them praised by the German public.
"Volkswagen strives to be the world's most environmentally friendly automaker. Just last March, Volkswagen raised its environmental objectives - from now to 2016, Volkswagen plans to spend more than two-thirds of the Group's total investment on the development of more efficient models and powertrain technologies and realize greener manufacturing," said Molly Yang, vice-president of Volkswagen Group China.
"In terms of social responsibility, Volkswagen Group China actively works together with governments, NGOs and educational institutions to raise public awareness for environmentally sustainable development," she added.
In 2007, Volkswagen Group China kicked off the "Green Future Environmental Education Initiative" across China to teach children about the environment. The program has been a great success, by engaging with more than 20,000 teens during the past five years.
Volkswagen also began a road safety TV program several years ago to increase public awareness of safety when driving. Last year it started to focus on children's safety and has attracted thousands of viewers through TV promotions and online video portals.
lifangfang@chinadaily.com.cn
(China Daily 12/03/2012 page22)