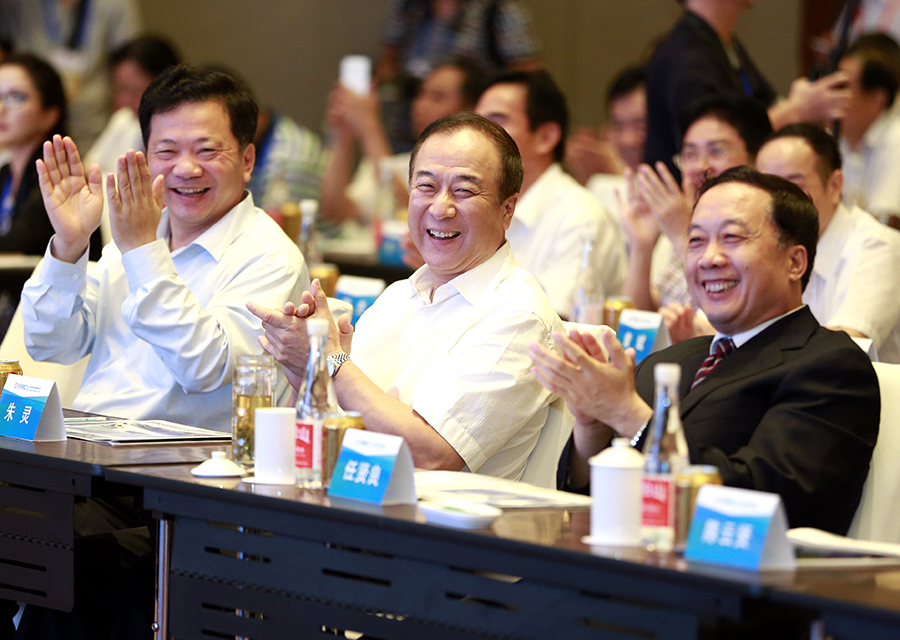 From right: Ren Xianliang, vice-minister of the Cyberspace Administration of China, Zhu Ling, publisher and editor-in-chief of China Daily, and Shen Haixiong, vice-president of Xinhua News Agency, attend the 15th Forum on Internet Media of China in Zhanjiang on Friday. Feng Yongbin / China Daily
The State-driven Internet Plus strategy will provide Chinese online media an opportunity to reach a wider audience and more advertisers, industry insiders said on Friday.
"The Web-based media are better positioned compared with traditional news outlets, thanks to the wider use of mobile Internet and big data technologies," said Fang Xingdong, founder of the Internet strategy think tank Chinalabs.
Chinese news websites will serve a considerably larger readership as the number of the nation's netizens grows, according to Fang.
"China is the backbone of the global Internet industry, both in terms of user numbers and the market values of the Internet companies. The future global Internet world will be dominated by China and the US, as the World Wide Web will connect 6 billion people in the coming years," he said.
Jin Naili, vice-president of consultancy iResearch, said the next round of online traffic growth will come from mobile Internet users.
More than 20 percent of mobile Internet users consumed news in the past year, and the proportion has been surging this year, according to an iResearch report.
Shi Shuicai, chief executive of data analytical firm Beijing TRS Information Technology, said that besides readership growth, news providers in China are also likely to make bigger profits out of digital advertising and value-added services.
Herbal beverage producer JDB Group is willing to pay media for audience attention online. "We were able to outsell Coca-Cola in China. As JDB plans to enter the overseas market, the Internet is a perfect platform to promote our brand," said Pang Zhengguo, head of product quality and resource management with JDB.
Insiders said the media should build a fully digitalized news processing mechanism and bring experienced journalists from traditional media into the industry as soon as possible. Although the demand for news reports in China is one of the world's biggest, the nation still lacks world-class online news platforms.
China is looking to unlock the potential of the cyberindustry to push forward the economy. The Internet Plus strategy aims to integrate the Internet with traditional industries such as manufacturing, logistics, public services, e-commerce and artificial intelligence.
Out of the world's top 30 listed Internet giants in market value, more than half came from China. The market size of Web-related services topped $145 billion last year, according to the Ministry of Industry and Information Technology.