11.11: Winning formula for a global phenomenon
Updated: 2013-11-13 07:18
E-tailers enjoy a spending spree of billions of yuan on the festival they created, reports He Wei from Shanghai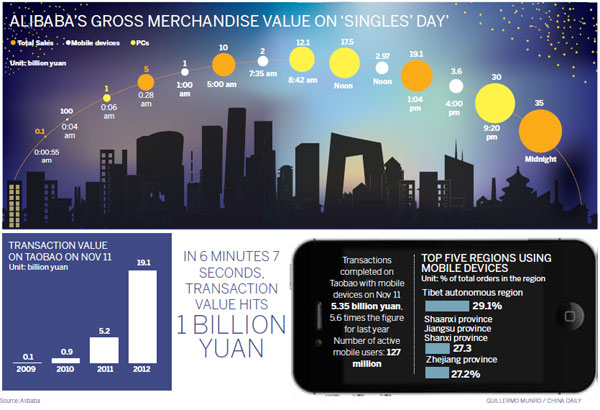 A day in celebration of unattached people has essentially become an annual cue for massive online discounting in China.
The Nov 11 shopping bonanza, created four years ago by e-commerce giantAlibaba Group Holding Ltd, ended with its customer-to-customer marketplace Taobao and business-to-customer site Tmall ringing up 35 billion yuan ($5.75 billion) in sales over the 24-hour period.
That figure soared by 83 percent past last year's total and was equal to half of the country's daily spending in September.
Premier Li Keqiang praised the e-commerce giant for generating the consumption-stimulating shopping spree.
Alibaba attracted 402 million unique visitors on Singles' Day - the equivalent of more than two-thirds of China's entire Internet-using population.
The country's - maybe even the world's - largest shopping festival saw some 171 million orders placed Monday on Tmall as well as the customer-to-customer marketplace Taobao.
About one-fifth of all orders were made using smart devices, fueled by 120 million mobile enthusiasts who accessed the Taobao app to get a bargain.
Merchants' value bolstered by mobile transactions rocketed to 5.35 billion yuan, five times the volume achieved last year, said Wu Yongming, senior vice-president of Alibaba.
China's western regions and lower-tier cities are quickly taking advantage of the mobile Internet, with the penetration rate of mobile transactions in the Tibet autonomous region taking first place among all provinces and municipalities, according to company data.
Overseas orders, while still relatively small, surged as customers from Hong Kong, Taiwan and the United States participated heavily.
Alibaba's third-party payment system, Alipay, handled 188 million transactions during the online shopping binge, exceeding the daily worldwide transaction of 155 million by payment technology firm Visa Inc, the company said.
It also was equivalent to 23 days of transactions processed by its other foreign counterpart PayPal, according to the latest financial statement by parent eBay Inc.
Enticed by steep discounts on an array of products, people snapped up everything from clothing to makeup to appliances, items on which vendors promised to at least halve prices.
Non-tangible items gained traction this year, with two Chinese financial institutisions, Guohua Life and E Fund Management Co Ltd, coming in second and third in terms of gross merchant value transacted over Alipay.
The victory followed Alibaba's aggressive encroachment into financial territory this year, after it acquired a fund management firm, initiated the country's first online insurer and won regulatory approval to sell insurance policies online.