China's mining, metals industries pursue M&A possibilities overseas
Updated: 2012-11-06 14:37
Number of deals surges while others sit on sidelines
China's mining and metals companies are taking advantage of global caution to seize merger and acquisition opportunities in the sector in overseas markets, experts at Ernst & Young Global Ltd said on Monday.
The first nine months of this year saw 684 deals worth a combined $76.8 billion in the global mining and metals sector. The number of deals dropped by 16 percent year-on-year, while the total value of all transactions decreased by 43 percent compared with the same period in 2011.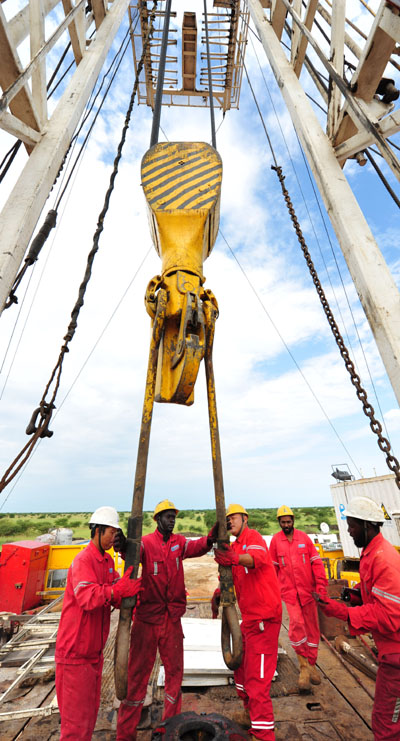 Employees of China Petrochemical Corp, China's second biggest oil company, work at a drilling platform in Sudan. In the first nine months of this year, the deal volume of Chinese mining and metals companies increased by 10 percent to 108 deals, with a value of $19.3 billion, accounting for a quarter of the global total. [Photo/China Daily]
However, for Chinese mining and metals companies during the same period, the deal volume increased by 10 percent to 108 deals, while the deal value soared 77 percent to $19.3 billion, accounting for 25 percent of global deal value.
The Chinese deal value was driven by both a surge in domestic consolidation and an increase in outbound deal activity, particularly in Africa, said Mike Elliott, global mining and metals leader of Ernst & Young.
"This is really a repeat of the successful acquisition activity by Chinese buyers we saw in 2009 and 2010," Elliott said. "We expect this success to continue into 2013."
Elliott said that globally, there has been an element of "wait and see" regarding M&A activity in the sector, with weaker prices, mining cost inflation and slowing global economic growth stalling M&A decisions.
"Lower valuations and asset disposals are presenting attractive buying opportunities for those companies with cash and a longer-term strategy," he said. "During the next year or two, we could see once-in-a-decade acquisition opportunities, particularly in copper, iron ore and coal fields."
Chinese companies currently have around 38 billion metric tons of overseas iron ore reserves.
In the future, those mines could have an annual production capacity of 230 million to 260 million tons, according to Luo Yongjun, vice-general manager of Sinosteel Mining Co Ltd.
He said Chinese mining companies met different kinds of problems in overseas projects, such as a shortage of capital for infrastructure construction, including railways and ports.
"As a result, the projects that actually contribute to the country's resources supply are not as high as the total reserves," Luo said.
A group of Chinese companies invested in overseas mining industry in the past two years when the iron ore prices were at its high level.
Many of those companies reported zero output due to financial and management difficulties, which has led to discussion of Chinese companies' failure in overseas mining projects.
However, Elliott said the results can be interpreted differently. He said the situation should not be regarded as a failure just because those companies haven't made a profit yet.
"In a long term, they can contribute to China's mineral resource supply," he said.
dujuan@chinadaily.com.cn