Chinese hungry for health products
Updated: 2012-03-03 10:07
By Liu Lu (China Daily)
| | | | | | | | | | | |
| --- | --- | --- | --- | --- | --- | --- | --- | --- | --- | --- |
|   | | Comments() | | Print | | Mail | | Large Medium  Small | 分享按钮 | 0 |
Chinese citizens in cities show growing demand for nutritional supplements
BEIJING - Every time she takes a business trip to the United States or Europe, Wang Qi is given a shopping list by relatives and friends. Every time, the list is filled with names of high-end cosmetics brands and luxury items.
Recently, however, that list has grown. The 32-year-old Beijing-based executive assistant says she doesn't remember when the list started to grow but the names of nutritional supplements have been piling up. Shopping for vitamins now consumes most of her time shopping overseas.
"People around me seem to be more concerned about their health than previously," Wang said.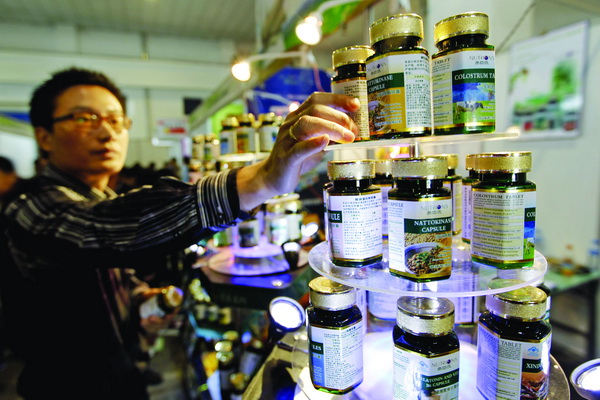 Because of growing disposable incomes and improved health awareness, the Chinese are more willing to spend on nutritional supplements. [Photo/China Daily]
With improved living standards in cities and a heightened belief that vitamins contribute to better health, Chinese urbanites have been exhibiting a greater demand for nutritional supplements in recent years. The demand has attracted more nutritional-supplement manufacturers from around the world to cash in on the trend, despite the fact that most of the world's vitamins are already produced in China.
Vitamins in China, which has already cornered the vitamin A and C markets, often go hand in hand with the nation's food industry, with billions of dollars in goods exported each year. There are thousands of drug companies in China.
It is estimated that the sales of vitamins and dietary supplements as well as food and drug additives in China will reach 600 billion yuan ($95.2 billion) by 2015. Additives now take up a large portion of sales in the country.
But one of the main reasons that the door is open for international vitamin makers is that most of the vitamins produced in China are shipped overseas and sold under foreign brands, according to Zhang Yongjian, an expert with the China Health Care Association, affiliated with the Chinese government.
Zhang said other reasons for increased demand include "growing disposable incomes and improved health awareness, together with worsening health problems and an aging population".
According to the latest report by the association, the average spend on healthcare products by Chinese consumers in 2011 accounted for 0.1 percent of their total expenditure. In developed economies, people spent just 0.03 percent on nutritional supplements.
But Zhang, the main author of the report, said that although China's nutritional-supplement industry is far smaller than in developed countries, the business is growing.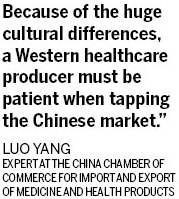 Over the past two decades, Chinese expenditure on health products has grown at an annual rate of between 15 and 30 percent, far higher than the 13 percent in developed countries over the same period.
Backed by his report, Zhang believes China will become one of the world's largest markets for dietary supplements in the near future.
The growing market in China has attracted multinational manufacturers of nutritional supplements, despite the high threshold to enter the market and cumbersome approval procedures.
Statistics from the report show that over the past 15 years roughly 644 types of nutritional supplement have been exported to China, with 63 percent coming from the US.
Michigan-based Amway Corp, a direct-selling company and manufacturer of primarily health, beauty and homecare products, is one of the biggest foreign players in the field.
According to the market intelligence company Euromonitor International Ltd, Amway led in the sales of dietary supplement in 2010 in China, with a market share of 16 percent. But it faces challenges from competitors who are increasing their presence in China, such as NBTY Inc, the New York-based manufacturer of vitamins and nutritional supplements.
General Nutrition Centers Inc, a Pennsylvania-based manufacturer and retailer of health- and nutritional products, is another competitor. It launched products in major Chinese cities including Shanghai, Guangzhou and Shenzhen in August.
David Zhang, CEO of GNC China, said the company aims to become the leading nutritional-supplement brand in China.
"An increasing number of Chinese consumers, particularly in big cities, are looking for leading international brands that can provide trusted product quality and innovative product lines," Zhang said.
He added that GNC plans to further expand its presence in all major Chinese cities by next year. "China is already the second-largest country for nutritional supplements, according to Nutrition Business Journal. We believe China's nutritional food market will experience rapid growth in the next five years," said Zhang.
Currently GNC products sold in China are produced and imported from the US. "We have adapted a multichannel strategy to list our products in premium supermarkets, high-class department stores, health and beauty stores as well as on e-commerce (sites)," Zhang said.
One outcome of the competition has been the diversification of China's dietary supplement industry. Several foreign vendors are focusing on the production of healthcare products for specific groups.
Guangzhou Biostime Inc, a subsidiary of the UK-based Biostime International Holdings Ltd, is a provider of premium pediatric-nutrition and babycare products.
It was one of the first companies to introduce children's probiotic supplements, a dietary supplement to aid digestion, to China in 2003. The product instantly became the company's biggest seller.
According to Euromonitor International, Biostime held market share of 85.4 percent in retail sales of children's probiotic supplements in China in 2009.
Leo Zhu, the company's senior sales director, said sales of probiotic supplements in China are growing at about 20 percent annually.
"We have been focusing on affluent Chinese consumers, who have bigger consumption power and are more willing to buy nutritional supplements for their children," Zhu said.
Despite the encouraging sales growth of premium imported food supplements across the Chinese mainland, industry experts warn that foreign companies should gain greater knowledge of the Chinese market and be more cautious before heading to the country.
"Because of the huge cultural differences, a Western healthcare producer must be patient when tapping the Chinese market," said Luo Yang, an expert with the China Chamber of Commerce for Import and Export of Medicine and Health Products. "It needs to make sure it understands the needs of Chinese shoppers."
She warned that if an imported brand sticks with its past experiences rather than adjusting its strategy to fit the Chinese market, that company could eventually be forced to withdraw.
Along with the influx of international brands, local manufacturers of nutritional supplements are looking for a way forward. But because more nutritional food companies have emerged in China in recent years, products made by domestic enterprises are less popular for a number of reasons, including a lack of innovation and research and development as well as poor marketing models.
To reverse this situation, several major domestic producers have begun to seek help from companies in the US and Europe.
As China's biggest importer of drug and healthcare products, China Meheco Corp, a State-owned enterprise listed on the Shanghai Stock Exchange, began to develop its own branded food supplements in the US in 2007.
"The R&D capability of US healthfood companies is ahead of China, so we want to improve our product quality through technical cooperation with them," said Du Xiangdong, a general manager at China Meheco. "Taking into account the diets and physical condition of Chinese people, scientists and researchers from both sides will work together to produce formulas that are best suited for Chinese (people), which I think will help to improve our competitiveness."