Twist in the tale for 'scattered' farmers
Updated: 2012-01-31 11:10
By An Baijie (China Daily)
| | | | | | | | | | | |
| --- | --- | --- | --- | --- | --- | --- | --- | --- | --- | --- |
|   | | Comments() | | Print | | Mail | | Large Medium  Small | 分享按钮 | 0 |
RIZHAO, Shandong - Zhang Shoukui thought he was onto a winner last year. With the price of pork rising, he invested in three sows, with the view of making a mint in the market.
So far, it has not worked out that way.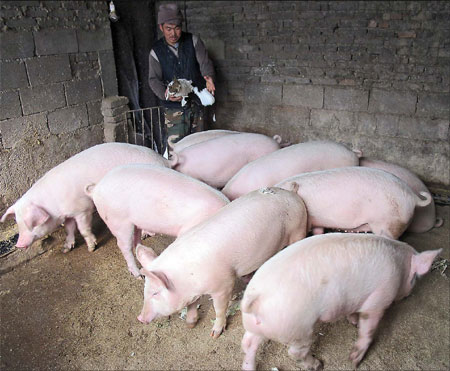 Zhang Shoukui, a small-scale farmer in Shandong province, feeds cabbages to his pigs. He hopes to sell the animals at the market in mid-February. [Photo / China Daily]
After a series of setbacks, including a fatal bout of foot-and-mouth disease, he has learned that making money from pig farming is a marathon, not a sprint.
"Breeding pigs is like raising children," said the farmer, 40, as he cleaned out a sty on Jan 25.
Winter is the hardest time, he added. "It's heartbreaking to see the piglets coughing, trembling and even dying one after another in the freezing cold."
Zhang's family was just one of many in Chaohe township, Shandong province, and beyond that turned their hand to pig farming last year amid soaring pork prices.
National Bureau of Statistics figures show that the price was more than 30 yuan ($5) per kilogram in July 2011, almost double the amount it was a year earlier.
"A large number of people in our village bought pigs when they saw the price hikes in spring," Zhang said. "I simply followed the others."
Farmers who had kept pigs for a long time made a killing, with some making a 600-yuan profit for every animal sold in the summer sales.
However, those who had just entered the field first needed to wait for their livestock to mature and reproduce. In Zhang's case, that took until August.
"A sow can give birth to upwards of 20 piglets at a time," he said. "The more offspring, the more money I make."
The first batch was disappointing, however - just eight piglets. He was also hit by large increases in corn and fodder prices, pushing up the cost of feed to 160 yuan per pig.
However, the most severe setback came this month when 20 piglets died of foot-and-mouth disease just a week after being born.
Although Zhang admitted he had little knowledge on how to keep pigs before buying three sows, he put his losses down to bad luck.
"I hope I have good fortune this year and pray things go smoothly," he added.
Cycle of strife
Experts say that farmers like Zhang who keep a small number of swine - often referred to as "scattered breeders" - are playing an important role in China's pig industry.
As numbers are changing all the time, it is difficult to find accurate data on how many pigs are being kept by scattered breeders nationwide.
Some media reports have suggested it is as much as 90 percent, while Liu Chengxin, president of the Henan Meat Association, told China Economic Weekly in June that it is more like 46 percent.