'Naked' resignations on the rise
Updated: 2012-01-31 10:34
By Wang Wen (China Daily)
| | | | | | | | | | | |
| --- | --- | --- | --- | --- | --- | --- | --- | --- | --- | --- |
|   | | Comments() | | Print | | Mail | | Large Medium  Small | 分享按钮 | 0 |
Increasing numbers of workers are leaving jobs with nothing new to go to as attitudes change
BEIJING - When Song Lin submitted her resignation on New Year's Eve her boss asked whether she had received a job offering better pay.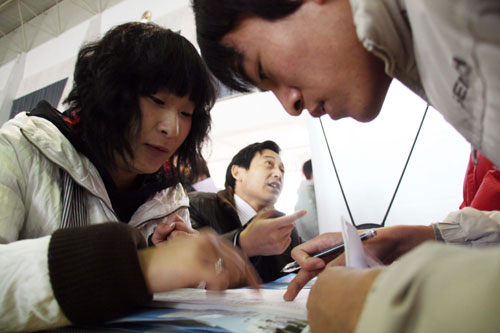 People filling in job application forms at a talent market in Binzhou, Shandong province. At the end of last year, a growing trend in the jobs market was "naked" resignation, which involved people quitting their jobs without having another to go to. Some said they were more interested in working for an organization rather than a business. [Photo/China Daily]
"I don't actually know what I will do after quitting," Song said. "For this reason, I didn't even tell my parents about my decision. I just know that job was not for me."
Song, who had spent the last two years working for a company based overseas in what was her first job, said she is more interested in organizations rather than business. She is prepared to wait several months for the ideal job to arrive and has savings that will support her for at least a year.
The white-collar worker is not alone in China in quitting a job before getting a new one, according to the latest job-hunting research.
It identified a growing trend for younger people to put their ideals ahead of work as the country undergoes a radical transformation from an export-driven manufacturing economy to a more innovative business model.
Job analysts call the trend "naked" resignation. It started to become common in 2011, according to the annual employment report by 51job Inc, one of the biggest human resource service companies in China.
A more liberal and independent generation of workers, like Song, are less likely to be lured by income. Instead, they want a more rewarding life experience that gives them peace of mind, according to specialist observers.
They are no longer afraid to leave traditional career paths if they find them to be less rewarding than they hoped.
They see abundant opportunities but also less job security. This trend is changing the landscape of China's job market and making it more favorable for employees.
More than 80 percent of surveyed employees said they wanted to change their current jobs at the end of 2011.
"The young generation seems more distant toward the traditional job market," said Feng Lijuan, chief human resources consultant at 51job Inc.
"There is a growing trend that jobs are less important in the lives of workers. They seek more equality in the job market and greater job satisfaction, both mentally and materially."
For Li Chen, managing partner of Apex Recruiter Ltd, a headhunting company in Beijing, about 30 to 40 percent of his candidates resigned "naked".
"These candidates care about opportunities and career development rather than salary," said the veteran headhunter.
A growing number of experienced workers are also lured by opportunities outside business capitals such as Beijing and Shanghai, according to the latest analysis. Second- and third-tier cities in China, although less developed than the first tier, offer more freedom for workers who seek to make a bigger difference in their career paths. It is the chance to be a big fish in a smaller pond.
This new generation downplays the importance of work and is acutely aware of the dangers of overwork. A growing number of employment injuries and death caused by working too hard lie behind a desire to play safe and quit jobs with nothing to go to.
"Employers are also paying more attention to their health," said Xie Zheng, China partner of Antal International, a British-based recruitment company.
China's high inflation rate last year also made life harder for employers, many of whom felt obliged to raise wages to keep staff despite the economic slowdown.
"Some employers raised salaries by up to 30 percent but still couldn't stop their employees from leaving or attract new recruits," said Feng Lijuan.
Vacancies in the job market have risen more than 30 percent but the number of applicants is up just 12 percent, according to statistics compiled by Zhaopin.com, another major human resource service in China.
The current lack of job applicants is forcing employers to be more aggressive in headhunting, analysts said. The first pay rises are often given to shopfloor staff and specialized workers.
The job market in China is also witnessing the first signs of a scaling-back in job recruitment in the face of higher wages in comparison with Southeast Asian countries.
The trend is further transforming China's job market from a labor-intensive one to a more mature one, analysts said.