Eager buyers skirt license plate limits
Updated: 2012-01-30 10:43
By Xu Xiao (China Daily)
| | | | | | | | | | | |
| --- | --- | --- | --- | --- | --- | --- | --- | --- | --- | --- |
|   | | Comments() | | Print | | Mail | | Large Medium  Small | 分享按钮 | 0 |
BEIJING - Residents of the capital city face the nation's toughest restrictions on license plates for new vehicles, but some have found solutions with the help of dealers and car rental companies.
The citywide policy adopted last year makes buyers join a plate lottery on the 26th of every month-but less than 3 percent are winners.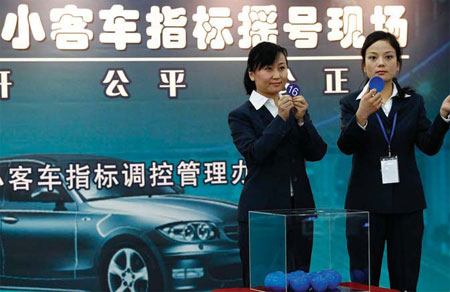 Beijing's monthly lottery for new car license plates. With the odds of winning a license less than 3 percent, buyers are finding creative other ways of getting their cars on the road. [Photo/China Daily]
One car owner who asked to remain anonymous said his answer was to get a plate from Hebei province, which neighbors Beijing.
He lives and works in Beijing's Daxing district close to Langfang, a city in Hebei.
"The dealer suggested I first get a Hebei plate and later replace it with a Beijing license when I have the luck (of the draw) - and I agreed without hesitation," he recalled.
Cars with license plates from Hebei and other provinces are allowed on streets outside the Fifth Ring Road of Beijing at any time. They can enter the fifth-ring area from 8 pm to 7 am on workdays and anytime on weekends and holidays.
"It's more convenient than no car," he said.
A salesman at a car dealership told reporters that buyers only need to provide a photo and 800 to 1,000 yuan to get a temporary residential certificate for Langfang - the requirement for a license plate in the city. It takes only half a day to get the plate.
The Langfang plate was the most popular alternative for eager Beijing buyers, but authorities adopted punitive measures to fight the tactic in the later part of 2011.
"Not so many dealerships still dare to do this now," a salesperson said.
Some car rental companies and a small number of dealerships lease Beijing license plates at a monthly fee of 3,000 yuan regardless of the model.
"Once renters are successful in the license lottery, they can terminate the rental contract immediately," said a general manager at a Guangqi Honda dealership.
But not many car owners use the service, according to the manager.
Individuals also have license plates available for lease at prices ranging from 1,500 yuan to 3,500 yuan a month, but not many deals have been made for them either.
"Individual license plate rental is usually among friends and relatives, otherwise it's too risky," said a dealer.
Buyers who have an ample budget can buy a Beijing plate from a dealership with an extra fee of up to 100,000 yuan.
But the fee is hidden as part of the price of the vehicle. Selling luxury cars at a surcharge is a common practice in China anyway and rich buyers are not troubled by paying more if they can get the car as soon as possible.
Some reports said before the restriction took effect at the New Year in 2011, "far-sighted" dealers bought second-hand vehicles just for their existing license plates, which can be transferred to the new cars they sell.
Such a practice mainly applies to luxury brands, according to dealers.
"If a customer only has a 100,000 yuan budget for buying a car, how could you expect him to pay the same amount for buying a plate?" one dealer noted.