Colored contacts in spotlight
Updated: 2012-01-21 09:23
By Zhao Yinan and Yu Ran (China Daily)
| | | | | | | | | | | |
| --- | --- | --- | --- | --- | --- | --- | --- | --- | --- | --- |
|   | | Comments() | | Print | | Mail | | Large Medium  Small | 分享按钮 | 0 |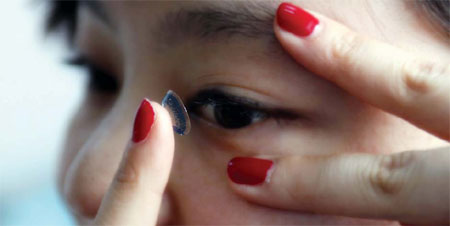 A young woman in Beijing tries a contact lens at an eyewear store on Friday. Authorities will bring colored contact lenses under closer supervision to ensure health and safety. [Photo/China Daily]
Warning against unauthorized lenses comes as safety issues arise
BEIJING / SHANGHAI - Cosmetic contact lenses are being brought under close supervision of China's food and drug watchdog in order to make the products safer.
Regulators have decided to classify cosmetic contact lenses, which can be used to enlarge wearers' pupils and change their eye color, as "medical apparatus". As a result, the products will now be subject to regular supervision, the State Food and Drug Administration said in an announcement posted on its website on Thursday.
The announcement said such contacts are not meant for correcting vision or other medical purposes and that their use has not been controlled in the past by medical administrators and regulators.
Recent years have brought the lenses increasing popularity. Along with that has come concerns over the products' safety and quality, leading to the decision to make them subject to oversight by regulators.
The administration also suggested that producers and sellers of the lenses cease making and importing them, which will help to stem the economic harm they will see from their loss of the right to sell the products. It also warned customers of the risks posed by the contacts, suggesting they both select and use them carefully.
Zhang Peng, a Beijing-based business consultant, said she began wearing colored contact lenses three years ago. She said she always knows that she has worn them for too long when her eyes begin to feel uncomfortable.
"I use them to make my eyes look more beautiful, but they are thicker than normal lenses and are not very oxygen permeable," she said. "So I just wear them on special occasions."
Xia, a 20-year-old in Shanghai who declined to provide her full name, said she was not aware that colored contact lenses could damage her eyes. "I'll still buy colored contact lenses from time to time but won't wear them for very long," she said.
An oculist from the Shanghai Xinshijie Eye Hospital, surnamed Chen, warned that wearing colored contact lenses for more than eight hours a day could lead to "an inflammation of the eyes and increase nearsightedness". He said colored contact lenses, when compared with normal ones, are thicker and have lower oxygen permeability.
It is essential for patients to take optometry examinations to make sure they will not be allergic to contact lenses or suffer inflammation from wearing them, Chen said, and eyeglasses are better than contact lenses for a person's eyes.
Yu Guoxiong, public relations officer for Johnson & Johnson, a large manufacturer of colored contact lenses, said the lenses produced by his company were certified as medical apparatus by China's food and drug watchdog in 2005.
A saleswoman at a Shanghai optician's store, who preferred to not be named, said the store's suppliers have not said colored contact lenses will be subject to tighter monitoring.
She added, "There were two customers who came in to ask why we're still selling these products".
The woman said the customers were confused about the restrictions but, all the same, bought a year's supply of colored contact lenses.
The store has not reduced its stock of the lenses and the demand for them has only increased gradually every year.
Xu Wan contributed to this story.