Builders follow environmental approach
Updated: 2012-01-09 09:46
By Wang Hongyi (China Daily)
| | | | | | | | | | | |
| --- | --- | --- | --- | --- | --- | --- | --- | --- | --- | --- |
|   | | Comments() | | Print | | Mail | | Large Medium  Small | 分享按钮 | 0 |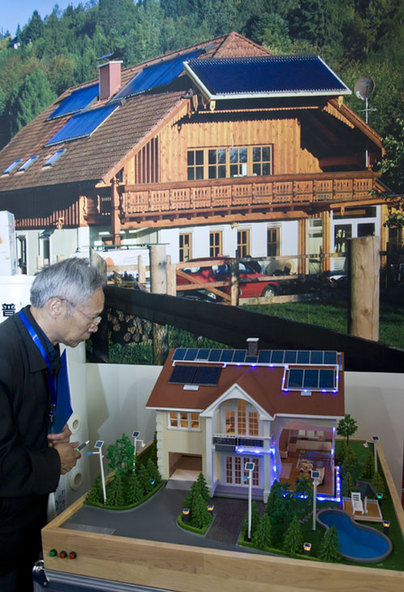 A visitor to a recent housing fair in Beijing examining a model of a "green" house equipped with water-recycling and solar panel systems and made of ecologically safe building materials. [Photo/ China Daily] 


Government and business leaders see the need but costs remain a high priority for most developers
SHANGHAI - Architect Wang Jinpeng had never been as busy as he was last year.
"We have five ongoing projects on hand," said the chief of the environmental building department at Tianjin Huahui Architecture Company. "All of them are relatively large. Inquiries and calls from potential clients about green buildings never end."
Wang's job is to provide designs for "green" buildings and professional advice to clients.
"Inspired by national policy, more stakeholders in the construction industry have now realized the importance of making buildings greener and consuming less energy," he said. "It was rare to see this a few years ago. Also, innovative and environmentally friendly architecture has become a top priority for industry leaders to promote their brand's popularity and attract customers."
Like Wang and his company, many people in the industry have experienced a boom in green building. "Developing green buildings will become a trend in the whole building industry," Wang said. "We predict there will be more demand in coming years."
Under plans for more urbanization, about 70 percent of China's population is expected to live in cities by 2035. The current figure is about 50 percent. More high-rise structures will be needed to satisfy living and working demands.
Driven by this huge demand for space, about two billion square meters of new buildings are being constructed every year, according to data from the Ministry of Housing and Urban-Rural Development. It's reported that one new tall building is completed every five days in China.
However, more than 80 percent of these new high-rise structures use high levels of energy. More than 95 percent of the existing 40 billion square meters of buildings also consume high levels of energy.
Officials have emphasized on many occasions that the building sector is central to the country's work on energy-saving and reducing carbon emissions.
Under the current Five-Year Plan (2011-2015), China has explicitly stated that constructing green buildings is one way of meeting the target of reducing energy consumption by 16 percent and carbon emissions by 17 percent for every unit of gross domestic production by 2015.
Because the building sector consumes more than one third of the total energy in China, there is still a long way to go.
A stringent and complete evaluation standard on green buildings is said to be urgently needed.
China launched its Green Building Evaluation Standard in 2006, and the evaluation work was formally carried out in 2008. The Green Building Label, also known as the Three Star System, assesses the building based on several environmental indicators, such as energy and water efficiency, indoor air quality and maintenance requirements.
In 2008, only about 10 building projects registered for the evaluation work. The number increased sharply to more than 200 in 2010.
By the end of October in 2010, a total of 268 building projects were labeled as green buildings. Among them, 86 projects were awarded three stars, the highest level. A total of 106 were given two stars.
About 300 to 500 building projects should meet the requirements of the Green Building Evaluation Standard each year in the coming three years, according to Yang Rong, an official at the Ministry of Housing and Urban-Rural Development.
Yang added that China's green building evaluation work needs to be improved step by step. Some detailed standards and regulations are still being researched or are under discussion.
Even with the ambitious target, experts said much work needs to be done to improve the assessment system.
Li Dexiang, a professor at the School of Architecture in Tsinghua University, said using methods that assess the green technology used in construction to evaluate the standard of green buildings is not enough.
"In addition to that, the total energy consumption level of a building project should also be measured," Li said, "Although some building projects technically meet the requirements set by the green building standards, they ignore the final effect on energy saving. They don't bring any improvement in quality and environmental protection. These are not real green buildings."
Dai Xingyi, director of the Urban Environment Research Center at Fudan University, said: "The evaluation standard should be based on a building's life cycle. In this regard, each chain along the life cycle from the construction to use should be taken into account. The carbon footprint during the whole life cycle of the building should be calculated."
The development of green buildings depends on government support and developers' voluntary involvement. Currently, the market is not mature enough and people are lacking awareness of the need to go green, Wang said.
"The subject of green buildings has always been considered by business and industry leaders. For developers, cost control is still a high priority," he added.
Li Baizhan, deputy-director of the China Green Building Council, who is also the dean of the Department of Urban Construction and Environmental Engineering at Chongqing University, said at the International Green Building Conference 2011 in Singapore: "China has indeed made some progress in promoting green buildings but it's still in the initial stages. There is still much to learn from other countries."
Singapore has set a good example for its neighboring countries in promoting green buildings and an ecological city environment.
With limited land and resources, authorities in the island state early on realized the importance of sustainable development and actively promoted green buildings as one of their strategic national policies.
Singapore launched a series of initiatives to promote green buildings and set an ambitious target of greening at least 80 percent of its buildings by 2030.
As early as 2005, Singapore launched its Green Mark Scheme, an incentive campaign worth 100 million Singapore dollars ($77 million) to encourage building owners to upgrade their existing buildings to become more energy efficient and environmentally friendly. It has achieved commendable results.
Talking about Singapore's experience, Dr John Keung, chief executive officer of the country's Building and Construction Authority (BCA), the government agency under the Ministry of National Development, emphasizes the importance of cooperation between the public and private sectors.
"Public and private agencies should work together on the unified goal of supporting green causes, encouraged by appropriate policies and incentives," he said.
Last month, BCA won the inaugural Regional Leadership Award, one of the six World Green Building Council Government Leadership Awards, for its exceptional Green Building Masterplan and efforts in steering the construction industry toward sustainable development in Singapore.
Several city authorities in China have been studying Singapore's efforts to learn from its experiences and develop best practices. In March last year, for example, Beijing Construction Decoration Association signed the Green Building Collaboration Memorandum of Understanding with Singapore's BCA to explore collaboration on various aspects of green building interiors, such as the Green Building Interior Standard for the Beijing interior decoration and construction industry. It has taken part in green building training courses run by the BCA for Beijing interior constructors and consultants, as well as looked at opportunities for business collaboration between the Singapore and Beijing building industries.
China is conducting research and plans to provide subsidies for green buildings based on their star qualifications. Local governments will also offer preferential policies to green developers. Qiu Baoxing, vice-minister of the Housing and Urban-Rural Development, revealed the information at a recent green building and low carbon summit. He said financial support for green building will be increased.