Finding inspiration in Nelson Mandela
Updated: 2012-01-05 08:00
By Zhang Qi (China Daily)
| | | | | | | | | | | |
| --- | --- | --- | --- | --- | --- | --- | --- | --- | --- | --- |
|   | | Comments() | | Print | | Mail | | Large Medium  Small | 分享按钮 | 0 |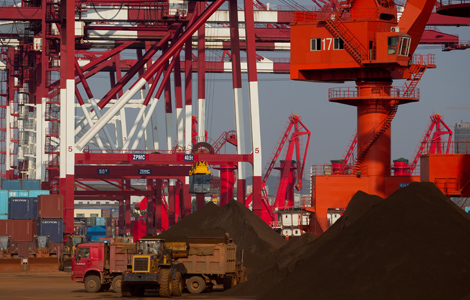 Iron ore imports at Qingdao port, Shandong province. [Photo / China Daily]
Rio Tinto's chairman regards former South African president as a hero
BEIJING - Like his idol Nelson Mandela, South Africa's first black president who spent 27 years in prison and was prepared to work with his former jailers to find long-term benefits for the country, Jan du Plessis is strong-willed and is never afraid of encountering hardship.
The Anglo-Australian miner Rio Tinto appointed du Plessis as its chairman in March 2009 following the departure of former chairman Jim Leng after just one board meeting in February.
At the time, du Plessis was chairman of British American Tobacco (BAT). He had been a non-executive director of Rio Tinto since September 2008.
Leng resigned amid speculation of a disagreement in the boardroom over how to service Rio's $38 billion debt. Most of the debt resulted from the purchase of Canadian aluminum group Alcan during a commodities boom.
There was speculation that Leng supported a rights issue as a quick way to resolve the company's financial crisis but clashed with Rio's chief executive Tom Albanese over a $19.5 billion deal with Chinese State-owned Aluminum Corporation of China (Chinalco).
Chinalco wanted to raise its stake in Rio to 18 percent under the terms of the deal, but the proposal faced opposition from some shareholders and regulatory hurdles in Australia, where Rio has extensive mining operations. A privately funded television advertisement called for it to be blocked and it collapsed in June 2009.
Albanese then focused on the $15 billion rights issue and a possible side deal on iron ore with rival BHP Billiton.
Thereafter the company's relations with China hit a rough patch and sank further when four of Rio Tinto's former employees in China were convicted of taking bribes and stealing Chinese commercial secrets.
Recalling that time, du Plessis said the two parties have not wasted time going over past events and have worked very hard to rebuild relationships in China.
Du Plessis, who grew up in South Africa during the apartheid era in the 1960s and 1970s, regarded Mandela as an icon because of his steel-like determination and willpower.
"What he achieved is incredible. I met him once at a dinner with a small group of people and found he had an aura of magic around him. He is truly inspirational to me," he said.
"I would say that Xiong Weiping, president of Chinalco, and I both thought it was important to extend the hand of friendship and start afresh after both companies' disappointment that our original plans could not be realized," he said. "The re-establishment of such a strong and positive relationship must be credited to the sincere attempts by the leaders of both organizations, backed up by strong working relationships at all levels of the respective businesses."
In summer 2010, staff from both companies met for a dinner at the Shanghai World Expo in the Rio Tinto-sponsored Australia pavilion. "We all felt then that we once again had a truly trusting relationship. Our joint ventures in exploration in China and the Simandou iron ore project in Guinea are clear examples of the positive ways we can work together as strategic partners for mutual benefit," he said.
The company started mending fences in March 2010 when Albanese visited Beijing to strengthen its partnership with China.
That month, Rio Tinto and Chinalco agreed to jointly develop the Simandou iron ore project. In December 2010, the companies signed an agreement to establish a joint venture to explore new sources of copper and coking coal in China.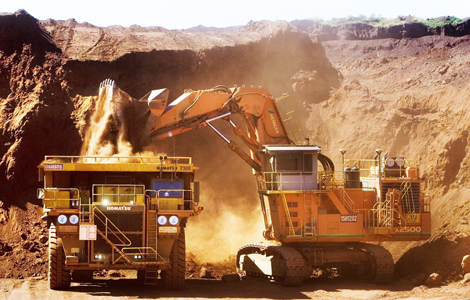 A conveyer belt transporting iron ore to a truck at Rio Tinto Group's Pilbara mine in Western Australia. [Photo / Bloomberg]
Before joining Rio Tinto, du Plessis' experience was outside the mining industry and mostly in the consumer goods sector. He became chairman of BAT in 2004. He has also been a non-executive director of the UK's Marks & Spencer retail chain since November 2008 and was also a non-executive director and chairman of the audit committee of Lloyds Banking Group.
Asked if he felt it was a challenge moving into a new industry, he said there were similarities in that both are global companies and multi-cultural organizations with a global impact and a global view.
"But clearly the consumer goods business requires very little capital and the planning time horizon can be quite short. Mining is very capital-intensive and you are looking at payback over decades rather than a few years. The planning time horizon is much longer," du Plessis said.
China is Rio Tinto's largest market. The company planned to double its procurement of goods in China to reach $1 billion in 2011, further strengthening long-term collaboration with the world's largest iron ore consumer.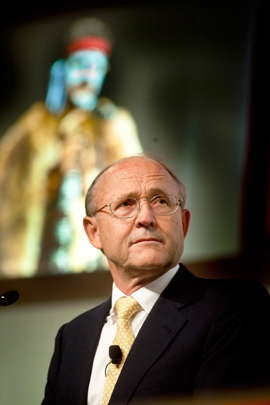 Jan du Plessis, chairman of Rio Tinto
"What we are looking for in China is a long-term relationship based on mutual interests," du Plessis said. "Our sales to China have increased from 10 percent year-on-year in 2004 to 29 percent in the first half of 2011. We are looking forward to more discussions with Chinese partners."
He remains upbeat about China's economic prospects despite the slowing economy. "While declining prospects in the West are contributing to the slowdown in the Chinese economy, domestic demand still remains strong," he said.
When talking about how to deal with Chinese businessmen, du Plessis said that in any business situation it is important to get to know the people with whom you are dealing.
"This is especially true in China where strong personal relationships underpin durable business ties. I don't think there is any magic formula for 'breaking the ice' other than to be honest and be yourself and take the time to build mutual trust," he said.
"The one thing I wish I could do is to speak more languages. We are developing strong relationships and strategic partnerships in China, but I know it would be easier if I could understand and speak the language," he said.
"I speak English and Afrikaans and a little bit of German and French. You miss so much having to go through a translator. You don't see the person's body language as they speak, and that is what helps you understand what someone's trying to say. I would love to be able to speak and understand Chinese," he added.
Being a global executive, what du Plessis most enjoys doing is visiting Rio Tinto's operations around the world.
"When I visit our businesses and I get the opportunity to meet the people who run them I feel that's the heart of the real business. The strategic decisions we make at headquarters are very important but we need to respect the people who do the day-to-day job," he said.
Q: What are your hobbies?
A: I really love sport. My first love is rugby and I avidly followed South Africa in the 2011 Rugby World Cup. Unfortunately South Africa lost to Australia in the quarter finals.
I also enjoy watching tennis and golf and, because I have lived in England so long, I have become interested in football, too. I play golf and tennis when I can find the time.
How do you spend your weekends amid your busy schedule?
For many years I've done huge amounts of traveling for my job, but always tried to minimize it at the weekends so I could spend time with my family, particularly when my children were younger.
I have three children who are now in their early 20s: two sons and a daughter. We still spend many weekends together. I might go and watch rugby with the boys or we'll go for a walk in the countryside together and enjoy a nice relaxing family dinner.
Who is your icon?
Nelson Mandela. As someone who grew up in apartheid-era South Africa in the 1960s and 1970s, he is undoubtedly my icon. What he achieved is incredible.
After 27 years in jail he came out without bearing grudges and was prepared to work with his former jailers to find a long-term solution for the benefit of the country. I met him once at a dinner with a small group of people and found he had an aura of magic around him. He is truly inspirational to me.
What book are you reading?
I am always interested in reading about current affairs, politics and global economic issues. At the moment I am reading as much as I can about the problems and potential solutions relating to the current global economy and fiscal issues, such as the European monetary crisis, US fiscal challenges et cetera.
What is the thing you want to do the most but have not found time to do?
Playing a lot more golf!
What kind of green lifestyle do you have?
Last year my wife and I built a new house in England in which we now live and we put in some renewable energy sources.
We have a system that takes heat from under the ground to supply our underfloor heating. Solar panels on the roof heat the water. And a flat roof is planted with seeds and grasses that provide high quality natural insulation and a welcoming habitat for birds and insects.
What do you consider your greatest achievement?
In my profession I have been involved with a number of exciting projects, but in all of those it's been a team effort. I have had so many excellent people working with me over the years, that I don't think it's appropriate to take personal credit for any of our achievements.
What is your most treasured possession?
I don't attach particular importance to possessions. Things like family are more important.
What is your greatest fear?
I take life as it comes and I have no personal fears of the future. I enjoy life and don't spend lots of time worrying about the future.