Govt seeks new ways to set prices for wind power
Updated: 2011-12-15 09:32
By Zhou Yan and Du Juan (China Daily)
| | | | | | | | | | | |
| --- | --- | --- | --- | --- | --- | --- | --- | --- | --- | --- |
|   | | Comments() | | Print | | Mail | | Large Medium  Small | 分享按钮 | 0 |
BEIJING - China is looking at abandoning the use of public auctions to set the price for offshore wind power projects, said an official from the National Energy Administration.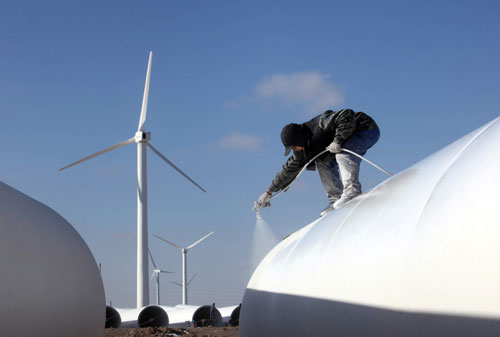 A worker paints wind turbines in Yumen, Gansu province. The National Energy Administration said China aims to have the capacity to generate 5 gigawatts of electricity from offshore wind facilities by 2015.[Photo/Bloomberg] 
Instead of using that system to arrive at a standard price, the government is considering allowing several big State-owned companies to plan such project through negotiating with local governments and authorities such as the State Oceanic Administration. Those initial plans would then have to receive the approval of the National Energy Administration before the work could begin.
"We hope this will become a more effective way to find a benchmark price for offshore wind power projects," said Shi Lishan, deputy director of the administration's renewable energy unit.
The practice of using auctions to set standard prices for offshore wind-power projects has evident shortcomings and was adopted merely as a provisional method at a time when few projects involving marine wind power were in operation for China, Shi said.
Last October, China completed its first public auction of four offshore wind-power concessions - deals in which a power-grid company agrees to buy a certain amount of power from a wind project for a certain price, thus protecting the investors in the project. The concessions were in Jiangsu province and were for a generation capacity of 1,000 megawatts.
Four State-owned companies, including China Datang Corp Renewable Power Co and China Longyuan Power Group Corp Ltd, were the winners at the auction.
Work, though, has yet to begin on any of the projects.
Yi Yuechun, vice-general engineer of the Hydropower and Water Institute, said previously that offshore wind-power projects often have a greater effect on maritime issues, power grids and the environment. For that reason, they must be prepared and investigated for a longer time than those that take place on land.
Moreover, building wind farms offshore entails more difficulties than does building onshore ones. In some cases, companies that have submitted winning bids have not prepared for the risks they would encounter when they began working in the water, said a wind energy analyst in Beijing who declined to be identified.
And wind turbines have fallen in price in recent years, reducing the profits of the producers of such equipment.
Following several delays, the second round of offshore wind-power concessions was widely expected to go to auction by the end of this year. But no official announcement of such an event has come out.
Despite such difficulties, China has resolved to support renewable energy, including wind power, in the hope of reducing both its carbon emissions and its reliance on fossil fuels.
The National Energy Administration said China aims to have the capacity to generate 5 gigawatts from offshore wind power by 2015. In 2010, the capacity from that source had been 142.5 megawatts.
"The standards one must meet to enter an auction have made us shy away," said the owner of a private wind-turbine factory in Shenyang, the capital of Liaoning province. "If these offshore projects were open more to private companies, we would hope to participate more."
World Bank effort
To support the development of policies and technology for renewable energy, the Chinese government, with the World Bank and Global Environment Facility, plans to start the second phase of the China Renewable Energy Scale-up Program next year with a Global Environment Facility grant of $27 million. That will follow the first phase, which is to be completed by the end of this year.
The second phase aims to support the Chinese government's 12th Five-Year Plan (2011-2015) by enabling an efficient and sustainable development of commercial renewable energy by reducing costs, improving efficiency and easing the integration into power systems, said Wang Xiaodong, senior energy specialist in the East Asia & Pacific region of the World Bank.
The World Bank Group is also planning to make investments into renewable energy. It is looking, for instance, at making a private-sector investment into wind and biomass in Shandong; and into offshore wind farms in Jiangsu and Fujian provinces, Wang said.
Liu Ce in Shenyang contributed to this story.
| | |
| --- | --- |
| | |
| Shi Lishan, deputy director of the National Energy Administration's renewable energy unit  | Wang Xiaodong, senior energy specialist in the East Asia & Pacific region of the World Bank  |