Yuan needs long-term view
Updated: 2011-12-09 09:25
By Du Juan, Li Xiang and Wang Xiaotian (China Daily)
| | | | | | | | | | | |
| --- | --- | --- | --- | --- | --- | --- | --- | --- | --- | --- |
|   | | Comments() | | Print | | Mail | | Large Medium  Small | 分享按钮 | 0 |
Paulson urges further reform of exchange rate system, greater market influence
BEIJING/SHANGHAI - The former US Treasury Secretary Henry Paulson said on Thursday that excessive concerns about day-to-day fluctuations of the yuan are unnecessary and attention should be paid to the currency's long-term behavior.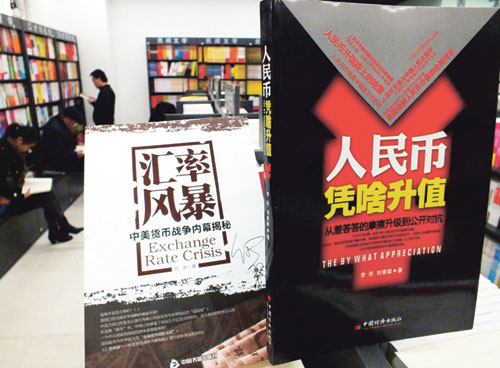 Books on exchange rates are bestsellers at a bookstore in Yichang, Hubei province.[Photo/China Daily] 
"I don't put too much weight on the day-to-day movements of the yuan. I focus on the trend," Paulson told reporters in Beijing during a visit as chairman of the Paulson Institute at the University of Chicago.
He said China should continue to reform its exchange rate system and allow the currency to move more flexibly and the market to play a bigger role in setting its value.
By Thursday, the yuan had touched the low end of its permitted daily trading range for seven consecutive sessions. It was the longest run of trading days in three years in which the yuan had weakened.
The weakening of the currency sparked speculation the yuan will depreciate further as investors seek a safe haven in the US dollar amid continued global economic and financial difficulties.
Paulson has previously warned that a slower pace of yuan appreciation could lead to political tensions between the US and China, especially during an election year in the US.
But most analysts said a short-term weakening of the yuan would be in China's interest, as a weaker currency could help boost exports that are being hurt by financial troubles in Europe.
Analysts have also said there could be another benefit in a weaker yuan if some investors move out of the currency, which could help deflate domestic asset bubbles.
Analysts believe that the long-term trend of a stronger yuan will remain unchanged, given that the fundamentals of the economy remain solid.
"The recent currency fluctuation is a short-term phenomenon spurred by a strong market willingness to hedge risks," said Cindy Zhang, managing director of corporate sales and structuring markets for China at Citibank (China) Co Ltd.
"We predict there will still be a 3 percent appreciation of the yuan next year, although the possibility of occasional depreciation cannot be ruled out," Zhang said.
The yuan's depreciation trend has been exaggerated, given that the mid-range of the currency against the dollar, set daily by the People's Bank of China, remains stable at between 6.35 and 6.36, she added.
Henry Zhang, executive vice-president and head of China corporate banking at Citibank China, said that the two-way fluctuation of the yuan indicates the existence of a maturing market.
He added that the behavior of Chinese enterprises selling yuan and buying dollars for overseas investment is contributing to rising capital outflows.
Paulson said that China should continue to rebalance its economy toward a consumption-driven rather than export-led growth model, and he added that sustainable urbanization could help advance China's goal of restructuring its economy by generating investment.
"The significant challenge in China is that many policies are not helpful to sustainable development," he said. "If the primary source for municipal government funding is selling land, it will create urban sprawl, which is inconsistent with urban planning."
Paulson suggested that local governments in China should diversify their sources of tax revenue and reduce their reliance on land sales, which would help limit "unreasonable" urban expansion.
Gao Changxin in Shanghai contributed to this story.