Small commodities bring big gains to Yiwu market
Updated: 2011-12-02 10:44
By Yu Ran (China Daily)
| | | | | | | | | | | |
| --- | --- | --- | --- | --- | --- | --- | --- | --- | --- | --- |
|   | | Comments() | | Print | | Mail | | Large Medium  Small | 分享按钮 | 0 |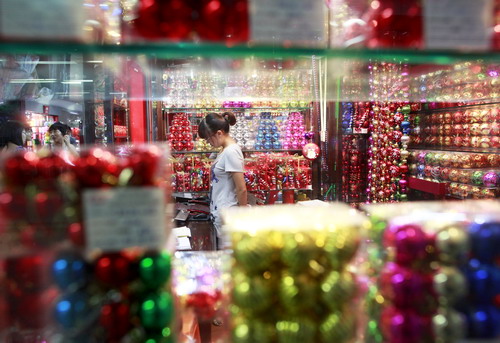 A woman sells Christmas decorations in her shop at the International Trade City in Yiwu, Zhejiang province. Yiwu is a leading symbol of China's market economy and also a place where traders and tourists flock for bargains. [Photo/ Bloomberg]
Development of e-commerce helps local entrepreneurs profit, grow
YIWU, Zhejiang - As one of the fastest-growing cities in Zhejiang province, Yiwu is home to huge numbers of wealthy business operators and expensive cars.
In the 1980s, Yiwu, with no geographical advantages and few natural resources, was just one of the hundreds of anonymous, poverty-stricken places in China that relied heavily on farming.
After China joined the World Trade Organization (WTO), Yiwu became a leading market for 100,000 so-called small commodities - accessories, household gadgets and the like.
It draws more than 160,000 visitors a day, including more than 2,000 from overseas.
The flourishing market has helped non-State industries to grow and this, in turn, has boosted the local economy and created more than 500,000 jobs, with annual tax revenues exceeding 600 million yuan ($94.3 million).
"The local government has been instrumental in the success of my business, they have created a promising economic environment for merchants to trade small commodities freely to the world," said Zhou Xiaoguang, CEO of China Xinguang Group, which has total assets of 12.5 billion yuan.
Yiwu is a leading symbol of China's market economy and also a place where traders and tourists flock for bargains.
"The development model in Yiwu has been spurred by the booming commodity market, better logistics facilities and opportunities for global trade," said Zhou.
The city is home to the world's largest enterprises for zippers, socks and jewelry, and it has created a new breed of entrepreneurs who are smart and confident.
"I think Yiwu merchants are quite consistent with their businesses, even if they are only selling small commodities. We always have the need and passion to learn from other businessmen," said Zhou.
According to local government data, Yiwu's exports grew 35 percent in 2010 to $2.8 billion.
"The government has encouraged us to do more global trade and we have been continuously getting more and more orders from overseas markets.
"Our efforts have helped China become one of the major trading windows in the world," said Zhou.
Unlike entrepreneurs in other cities, Yiwu merchants like to stay close to home. Few expand to other cities or countries, as the concept of home and family is integral to their businesses.
Entrepreneurs from other nations who find it difficult to travel to countries like the US due to visa restrictions come to China.
"I was inspired by the surprisingly cheap price for commodities in Yiwu, while most of the made-in-China products exhibited at the annual trade fair in Guangzhou are quite expensive," said Mohamed Abdalla, a 49-year-old businessman from Egypt who has been in Yiwu for 21 years.
After building up a network through two years of attending the Guangzhou trade fair, Abdalla made a breakthrough of sorts after he started selling much cheaper products from Yiwu.
Within the past two decades, the number of Abdalla's clients has increased from six to hundreds of regular buyers, mainly from South America, Asia and Africa.
"I look for good quality products and steady supplies from Yiwu, as it generates more overseas business and profits," said Abdalla.
Foreign traders have become an integral part of the Yiwu landscape and do not stand out like sore thumbs. Their successful integration with the local economy has helped attract more foreign entrepreneurs.
"I think the number of BMWs in Yiwu probably exceeds the number in Shanghai," said Abdalla.
However, rising labor and raw material costs have had an impact on the Yiwu economy. But with the development of e-commerce business in the city and the country, things are slowly changing.
According to data from the Yiwu Administration for Industry and Commerce, in 2010, the International Trade Mart achieved sales of 45.6 billion yuan, while the city's e-commerce revenue was 50 billion yuan.
Seventy percent of the local e-commerce dealers purchase products from the market, while for start-ups, the number is 90 percent, said Liu Wengao, vice-director of the Yiwu Jiangdong E-commerce Association.