Steel output declines on weak demand in August
Updated: 2011-09-14 10:54
By Ruby Lian and Jacqueline Wong (China Daily)
| | | | | | | | | | | |
| --- | --- | --- | --- | --- | --- | --- | --- | --- | --- | --- |
|   | | Comments() | | Print | | Mail | | Large Medium  Small | 分享按钮 | 0 |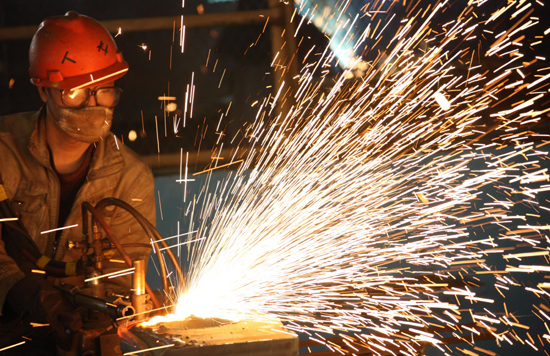 A worker cuts steel bars at a steel mill in Huaibei, Anhui province. Thousands of small mills will face power shortages because the government will first guarantee electricity to residential users. [Photo/ China Daily]
SHANGHAI - China's crude steel output fell 0.9 percent to 58.75 million tons in August from the previous month as several steel mills reduced production due to maintenance, official figures showed.
Data released by the National Bureau of Statistics (NBS) on Sept 13 showed that China's daily crude steel output fell below 1.9 million tons for the first single month this year, with the mills scheduling maintenance to take advantage of the weak consumption season over the summer period.
"Steel output declined for July and August mainly due to big mills' maintenance, but the production over the next few months may find it difficult to climb as rapidly as the first half," said Du Hui, steel analyst with Qilu Securities Co Ltd in Shanghai.
China's average daily steel output stood at above 1.9 million tons this year, hitting a record 2 million tons a day in June, compared with an average 1.7 million tons last year, as mills positioned themselves to take advantage of strong demand from construction activities, particularly the social housing program.
"We don't expect steel production to fall from here," said Graeme Train, an analyst with Macquarie Commodities Research.
"While construction appears to be stagnating, there are signs that manufacturing demand is bottoming out and seasonal consumption should help provide some lift into the final quarter of the year," Train said.
China's industrial output grew 13.5 percent in August from a year earlier, slowing from July's 14 percent annual rise, with the yearly growth still likely to be 13.5 percent this year, the Ministry of Industry and Information Technology said on Sept 13.
China's total steel production accumulated to 469.3 million tons for the first eight months this year, up 11 percent from the same period of last year, NBS data showed.
China's top listed steel producer, Baoshan Iron & Steel Co Ltd (Baosteel), said on Tuesday it will raise its main steel product prices for October bookings, while the country's tightening moves are expected to continue curbing large restocking by end users.
Baosteel led its domestic peers in price increases for September in anticipation of improving demand in the traditional consumption season.
Hot-rolled coil prices will be 60 yuan ($9) a ton higher while prices for cold-rolled coil prices will go up 50 yuan for basic grade. And other flat products will see similar rises.
However, the global economic turmoil as well as the monetary tightening by China's central bank is expected to weigh on China's steel market. China is the world's largest steel producer and consumer.
"The lack of credit affects buyers' willingness to build and hold inventory, so even if real demand holds up, we are unlikely to see strong restocking activity in the near term," Train said.
Baosteel's net profit fell 37 percent in the first half of the year, and its poor performance was partly blamed on soaring raw material prices.
The China Iron & Steel Association warned that demand for flat steel products will see little growth in the months ahead, suggesting that major State-controlled steel companies may continue to suffer squeezing profit margins for the rest of this year.