China's food chain lures private equity
Updated: 2011-08-29 11:22
(Wall Street Journal)
| | | | | | | | | | | |
| --- | --- | --- | --- | --- | --- | --- | --- | --- | --- | --- |
|   | | Comments() | | Print | | Mail | | Large Medium  Small | 分享按钮 | 0 |
BEIJING - In early 2009, when Carlyle Group LP's China team proposed that the private-equity firm invest in a Chinese infant-formula producer, the initial response was disbelief, the Wall Street Journal reported.
The idea seemed crazy to members of Carlyle's Washington investment committee, according to one account of the meeting. Memories were still fresh of the food-poisoning scandal in China in which tainted milk killed at least six infants and sickened 300,000 others.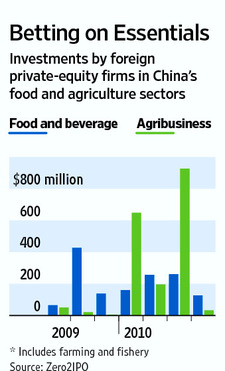 The Carlyle team eventually convinced the committee to buy a 17.3% stake for an undisclosed sum in Guangdong Yashili Group Co Ltd Its winning pitch: growing demand from China's middle class for safe and reliable food.
Global private-equity firms, including Carlyle, Blackstone Group LP and 3i Group PLC, are increasingly looking to China's food chain - from dining and food retailing to fishing - as the Chinese government seeks to consolidate the industry and improve food safety. Foreign private-equity groups invested $2.6 billion last year in the country's food and agriculture sectors, more than triple from a year earlier, according to Zero2IPO Group, a Beijing-based research firm that tracks China's private-equity industry.
Soon after Carlyle acquired its stake in Guangdong Yashili in September 2009, the firm installed a technology director and a chief quality adviser.
China's dairy industry was reeling from the disclosure that milk produced by the state-owned Sanlu Group contained melamine, an industrial chemical that made the milk appear to have a higher protein level. Guangdong Yashili wasn't involved in poisoning milk, but its supply chain was compromised. The company, along with 20 other milk producers in China, failed a government test in 2008 to screen for tainted milk.
Carlyle executives helped organize tours for Yashili's managers to find new sources of raw milk powder in countries such as New Zealand and Australia. Late last year, shortly before Yashili's initial public offering, Carlyle created a quality and safety advisory committee headed by Robert Brackett, a former US Food and Drug Administration director.
"We have the know-how and resources to deliver some of the most qualified experts," said Patrick Siewert, a senior director at Carlyle who led the Yashili deal.
In October, Yashili raised HK$2.3 billion ($295 million) in a Hong Kong IPO. A Carlyle spokesman said the firm is "satisfied" with Yashili's performance and has "confidence" in its future.
The Chinese government has vowed to crack down on food-safety violations and has meted out severe punishment, including the death penalty. But state media frequently report new scandals involving the use of chemicals intended to enhance the growth or taste of food.
The fragmented structure of Chinese farming is partly to blame, analysts say. The sector has long been dominated by small, family-run businesses, making it hard for authorities to spot problems and enforce standards. There are 200 million farming households and 400,000 food-processing companies with fewer than 10 employees scattered around the country, according to Christopher Hickey, the FDA's China director.
Foreign investment could help Chinese farmers and food producers build up scale and tackle safety issues that have clouded made-in-China brands, executives at some Western private-equity firms say. "We are not passive investors who just invest and then do nothing and simply wait for payback," said Anna Cheung, co-head of 3i's China operations.
3i made its first investment in China's food sector in 2006, when it put $20 million in Little Sheep, a hot-pot restaurant chain. After the deal closed, 3i helped the company review its franchise network of 700 restaurants for food safety and other issues. Little Sheep discontinued franchise agreements with about 200 restaurants over shortcomings in food quality and operation controls.
3i brought in former executives from KFC Corp and Burger King to help run Little Sheep. "Even just one case of food poisoning could destroy the brand," Cheung said.
Little Sheep went public in Hong Kong in 2008, raising about $100 million. A year later, 3i sold its stake in the company to Yum! Brands Inc, reaping a return of more than 300% on its initial investment.
China's growing middle classes are demanding higher quality products and favoring the convenience of processed and packaged food. Organic foods—nearly non-existent in China a decade ago—are now in high demand. Sales of packaged organic food are expected to hit 543 million yuan ($85 million) by 2014, from about 170 million yuan in 2009, according to Euromonitor International, a market research firm in London.
In another recent deal, a consortium led by Blackstone invested $600 million in Dili Group Holdings Co Ltd, one of China's largest operators of wholesale vegetable markets. Blackstone, which put in $194 million for a 10% stake in Dili, sold it back to the company in the first quarter of this year, which gave the private-equity firm a 16.5% return on its investment, according to people familiar with the matter. The sale came amid Beijing's effort to control food prices to tamp down inflation, which has limited the profit potential of food producers and traders.
Despite the restrictions on Chinese food companies to raise prices, many analysts expect the pace of de