Marriage law ruling may help home sales
Updated: 2011-08-29 09:29
By Wang Ying (China Daily)
| | | | | | | | | | | |
| --- | --- | --- | --- | --- | --- | --- | --- | --- | --- | --- |
|   | | Comments() | | Print | | Mail | | Large Medium  Small | 分享按钮 | 0 |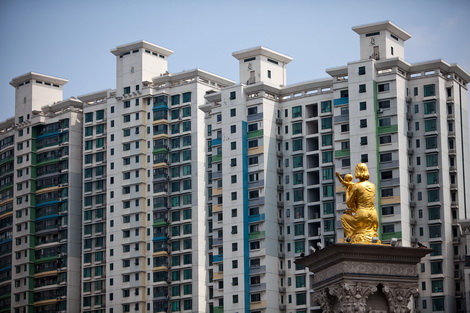 A sculpture of a mother embracing her child stands in front of a residential property in Shanghai. There is a popular joke that it's the mother-in-law who drives up housing prices in first-tier cities by demanding that the couple must have a home of their own before she consents to her daughter's marriage.[Photo/China Daily]
SHANGHAI - In a recent interpretation of China's Marriage Law, the Supreme People's Court ruled that a spouse has no share of ownership of property bought in mortgage by the other spouse before marriage, causing many young Chinese to consider buying property before marriage.
In an online survey conducted by Sina.com, 58.8 percent of the respondents said they would consider buying a house by themselves to avoid further disputes after marriage. And 63.5 percent expressed the concern that the new interpretation won't cool down housing prices, but instead fuel further surges because now everyone has to secure a house of his or her own to defend their rights after marriage.
Li Xiaoling, a teacher, admits she is confused about what to do in the new situation. "Before, I decided not to buy an apartment myself, but now I am considering buying one," she said.
Lu Yunzhi, a 27-year-old fiancee of a Shanghai resident, feels the effect of the ruling. Lu is about to get married this year, and her boyfriend's family has purchased a house already.
"I am aware of the new marriage law interpretation and am a bit worried about the future. I mean, it's not fair for me paying the remaining mortgage debt together with my future husband without acquiring co-ownership of the house," Lu said.
But she added that she is confident of their love and marriage. "Otherwise, I wouldn't marry him," she told China Daily.
Public opinion is sharply divided about the change, with some applauding that it will encourage couples to focus more on love itself than sharing the spouse's assets, while many others worry that it is extremely unfair to women. Under the new interpretation, a woman's traditional work in the home would not entitle her to any compensation in property in the event of divorce.
Ding Shuhan, 21, said that although she has not discussed marriage with her boyfriend, she is concerned about the change in the marriage law.
"Many broken marriages result from men's extramarital affairs. The house used to be the only thing to make up for the betrayal to women, but now, there is nothing left to comfort them," Ding said.
However, a third opinion is emerging that the new interpretation will increase the likelihood that the man and woman both buy property separately before marriage or invest in the house jointly. That would be good news for property companies, which saw home sales put under pressure from policies adopted by the government.
According to the National Bureau of Statistics, property prices in Beijing and Shanghai increased 1.9 percent and 2.5 percent year-on-year in July. But as compared with the previous month, July's housing rates didn't see any change in the two municipalities.
"After the announcement of the new marriage law interpretation, we did some research at our brokerage chains to find out if there were changes in home buyers' behavior, but there is almost no change. Apparently, so far people are taking it well," said Song Huiyong, director of Shanghai Centaline Property's research and consulting department, a Hong Kong-based brokerage chain.
Song believes the new interpretation is reasonable and will eliminate potential concerns for those who are rich enough to buy an apartment before marrying. "But buying a house before marriage should not be the major trend in the future, because most families are not rich enough to afford an apartment paid by one family alone," he said.
Usually, an apartment is the last hurdle for many couples to overcome before tying the knot, and some even joke that it's the mother-in-law who drives up housing prices in first-tier cities by demanding that the couple must have a home of their own before she consents to her daughter's marriage.
Under the previous marriage law, a house purchased before marriage is jointly owned by the husband and wife, regardless of who paid for the property. Consequently, many young Chinese women wanted a husband who owned a house without a mortgage.
Soaring home prices have become an unbearable burden for many would-be grooms' families. But the new ruling issued on Aug 12, may reverse the status quo: Marriage is not enough to get the right to a house anymore.