China's CPI up 6.5% in July
Updated: 2011-08-09 10:00
(Xinhua)
| | | | | | | | | | | |
| --- | --- | --- | --- | --- | --- | --- | --- | --- | --- | --- |
|   | | Comments() | | Print | | Mail | | Large Medium  Small | 分享按钮 | 0 |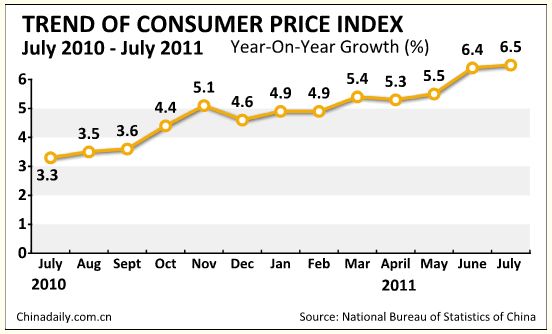 BEIJING-- China's Consumer Price Index (CPI), a main gauge of inflation, accelerated to 6.5 percent in July, the National Bureau of Statistics (NBS) said on Tuesday.
China's inflation accelerated to a 37-month high in July on surging food costs, putting the government in a tough position with worsening global liquidity in sight.
The stubbornly high inflation rate has been driven by increasing food costs, which rose by 14.8 percent in July from a year ago. The price of pork, a staple food in China, soared by nearly 57 percent in July.
On a month-on-month basis, the CPI increased 0.5 percent over that of June.
The Producer Price Index, which is used to calculate inflation at the wholesale level, jumped 7.5 percent year-on-year in July.
The Chinese government has made stabilizing prices a top priority in the second half, as many believed that the government's annual inflation target of 4 percent will be difficult to reach this year.
To soak up liquidity, the central bank has asked the nation's banks to set aside a record high of 21.5 percent of their cash in reserves and increased its interest rates five times this year.
The government should understand that rising production costs are more compelling reasons for the current inflation situation, as its monetary tightening measures have seen little effect so far, said Wang Jun, an economist with the China Center for International Economic Exchange.
Wang said rising labor costs and increased prices for cooking oil are signs that more price hikes will occur in the coming months.
He estimated that pork prices will edge higher over the course of the year, as pork consumption typically increases in the fall and winter seasons.
While its inflation remains high, the world's second-largest economy has also shown signs of cooling down, with manufacturing growth slowing to a 29-month low last month.
Maintaining relatively fast growth while curbing inflation has always been troublesome for the Chinese government. It has repeatedly stressed that striking a balance between maintaining growth, curbing inflation and restructuring the country's economy will be its major concerns for this year.
However, the dilemma is complicated by a faltering global economy, as the U.S.'s debt woes are likely to advance a third round of quantitative easing, which may worsen global liquidity and toughen China's domestic counter-inflation measures.
Wang said that the government has already used nearly all of the monetary tools at its disposal, meaning that it might have an even harder time dealing with a new round of global financial turmoil.
Qu Hongbin, an economist with HSBC Holdings, said that the government is unlikely to change its tightened monetary policies any time soon, as domestic inflationary pressures remain high.
He estimated that headline inflation will remain above 5 percent for another few months before dropping to around 4 percent by year end.
The Chinese economy expanded by 9.5 percent in the second quarter, slightly down from the 9.7 percent growth seen in the first quarter.