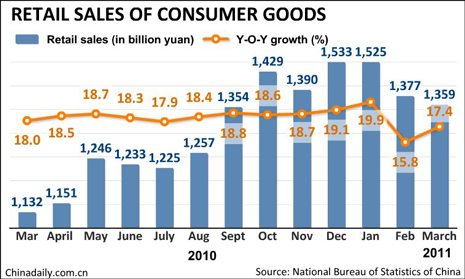 BEIJING - China's retail sales of consumer goods rose 16.3 percent year-on-year to 4.2922 trillion yuan ($657.29 billion) in the first quarter this year, the National Bureau of Statistics (NBS) announced on Friday.
Related readings:


China's March CPI up 5.4% 


China's March PPI up 7.3% 


China's industrial value-added output rises 14.4% in Q1 


 China's Q1 fixed-asset investment up 25%

Sheng Laiyun, spokesman with the NBS, said that the retail sales of March grew 17.4 percent from a year earlier, and edged up 1.34 percent from February.
Urban retail sales of consumer goods grew 16.4 percent to 3.7248 trillion yuan in the first quarter, while retail sales in rural areas rose 15.8 percent to 567.4 billion yuan from a year earlier, Sheng said. 
"Although market sales have witnessed steady growth, the sales of products associated with housing and transport have grown less strongly than a year earlier, such as furniture and automobiles," he said.
Sales of furniture in the first quarter climbed 24.5 percent from a year earlier, 13.1 percentage points lower than the growth of the same period last year, while automobile sales grew 14.2 percent, 25.6 percentage points less than last year.
Other products like home appliances and oil products also saw weaker growth compared with a year earlier.