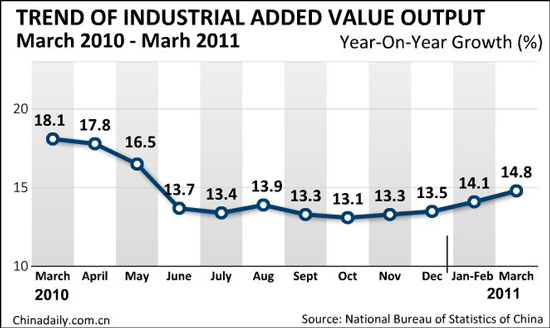 BEIJING - China's industrial value-added output grew 14.4 percent year on year in the first quarter of this year, the National Bureau of Statistics (NBS) announced on Friday.
The growth rate was higher than the 14.1-percent rise in industrial value-added output in the first two months.
Related readings:


China's March CPI up 5.4% 


China's March PPI up 7.3% 


 China's Q1 fixed-asset investment up 25%

March alone saw an increase of 14.8 percent year on year in the sector, a rise of 1.19 percent from February, NBS spokesman Sheng Laiyun said at a news briefing. The figure beat market expectations of 14 percent growth for the month.
China's manufacturing expanded at a faster pace in March with the Purchasing Managers Index (PMI) rising to 53.4 percent, a rebound after sliding for three consecutive months. Analyst said it suggested resilience of the economy amid monetary tightening moves.
During the first three months, industrial value-added output for the heavy industry sector rose 14.9 percent from one year earlier, and that for the light industry sector was up 13.1 percent, according to the NBS.
All 39 industries saw year-on-year growth, with textiles up 7.4 percent; chemical materials and products up 15.1 percent; general equipment manufacturing up 21.8 percent; and transportation equipment manufacturing up 14.1 percent, the figures showed.