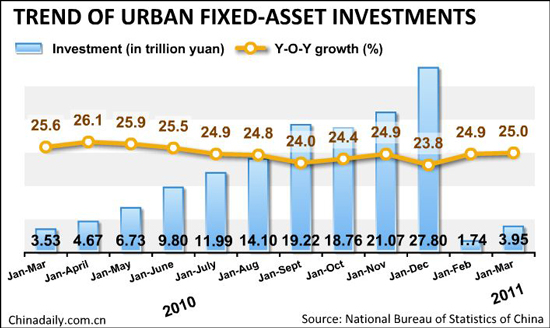 BEIJING - The fixed asset investment in China rose 25 percent in the first quarter of this year, the National Bureau of Statistics (NBS) announced Friday.
In March, the urban fixed asset investment rose 1.73 percent from February, figures released Friday by the NBS showed.
Related readings:


China's March CPI up 5.4% 


China's March PPI up 7.3% 


China's industrial value-added output rises 14.4% in Q1 

During the first quarter, investment in the primary, secondary and tertiary industries rose 10.8 percent, 24.8 percent and 25.6 percent, respectively.
Investment in the country's central and western regions grew 31.3 percent and 26.5 percent, respectively, higher than the 21.6-percent growth in the country's eastern regions.
During the first quarter, investment in the property sector rose 34.1 percent year on year to reach 884.6 billion yuan. Investment in residential housing hit 625.3 billion yuan, up 37.4 percent.
The NBS data also showed the total floor space of commercial housing sold during the period reached 176.43 million square meters, a rise of 14.9 percent compared to the corresponding period of last year.