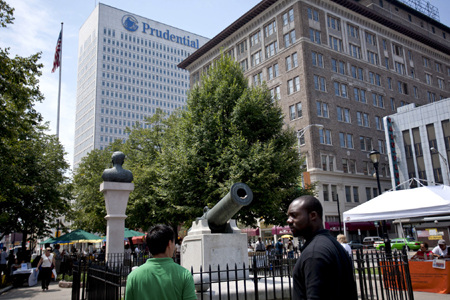 A bronze cannon sits across from a Prudential Financial Inc building. The company said it will invest $500 million in a private-equity fund it formed with China's Fosun Group. [Photo / Bloomberg] 
$600 million private-equity fund to invest in high-growth companies
BEIJING - China's private conglomerate Fosun Group and Prudential Financial Inc have formed a $600 million private-equity fund to invest in high-growth companies that bank on China's attractive business climate.
In a signing ceremony on Thursday, Prudential Financial said it will invest $500 million in the fund, while Fosun, which will be responsible for investment decisions, will fork out $100 million.
The dollar-denominated fund will invest in Chinese companies listed overseas, foreign firms with operations in China, and domestic companies, where "the return of investments will yield substantial premiums when they go public (initial public offerings)", said Mark Grier, vice-chairman of Prudential Financial.
If the partnership goes well, he said it will usher more tie-ups and investment opportunities for Prudential Financial in China. "We want that to be true," Grier said.
"The chemistry is good. The partnership brings not only tangible benefits but also intangible advantages between Fosun and Prudential Financial," he said.
In 2004, Prudential Financial formed a joint venture with China's Everbright Ltd to manage a retail fund through Everbright Pramerica Fund Management Co Ltd. Pleased with the performance of the fund, Grier said Prudential Financial is in the process of raising its equity ownership in the joint venture to 45 percent from the current 35 percent.
The partnership with Prudential Financial launches Fosun into the assets management business. Fosun's private equity platform includes the fifty-fifty investment partnership with the US-based private equity group Carlyle Fund.
Referring to the partnership with Prudential Financial as a good start to 2011, Fosun's Chairman Guo Guangchang - who admires Jack Welsh, Warren Buffett and Li Ka-Shing - said such partnerships with foreign entities will not be the last as he'll keep shopping for more investment opportunities.
Related readings:


 Fosun and Chindex form joint venture


 Fosun to invest billions as it goes for global expansion


 China's Fosun acquires 7.1% of Club Med


 Carlyle to partner with Fosun Group
"Our goal is to be a premium investment company. We're interested in all opportunities," Guo said, "especially those with large-scale potential. If the project meets our investment goals and strategies, we will form partnerships (with these potential targets)."
Last year, Fosun was rumored to be part of a consortium that bid for Prudential PLC. The consortium is also said to be backing Prudential PLC's failed $35 billion bid for AIA Group Ltd. Company sources within Fosun said they have been approached to acquire, or form alliances with, foreign financial institutions.
"We're picky in choosing partners. We're not in a rush. We have the capital and we will continue to shop," Guo said when asked to comment on the rumored bid for AIA.
Global financial institutions, including Carlyle, TPG and the Blackstone Group, are rushing to form partnerships with Chinese local governments and companies to tap the country's fast-growing private equity market.