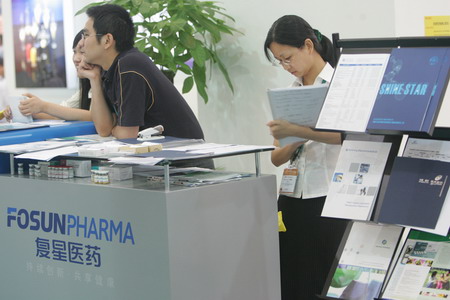 Fosun Pharmaceutical expects the joint venture to upscale and supplement its existing business. [Photo / China Daily] 
SHANGHAI - Fosun Pharmaceutical (Group) Co Ltd announced on Wednesday that it will establish a joint venture with the US-based healthcare company Chindex International Inc to explore the domestic medical device market.
Fosun will hold a 51 percent stake after injecting $20 million, with Chindex holding the remaining 49 percent after shedding its medical device department.
Shanghai-listed Fosun is owned by Guo Guangchang, a former Fudan University graduate and has appeared several times on Hurun's Rich List.
According to the deal signed on Dec 28, Chindex Medical Limited will independently operate the medical device business. This will cover Fosun's dental products and consumables. However, Fosun's clinical-diagnostic products will not be distributed by the joint venture.
"The formation of the new joint venture will upscale Fosun's medical device division and optimize Fosun's industry chain from research to marketing, both in foreign and domestic markets," said Chen Qiyu, general manager of Fosun Pharmaceutical.
"This integration of complementary businesses, in our opinion, offers synergies, economies of scale and a presence in China not available to either of the businesses on a stand-alone basis," said Roberta Lipson, president and chief executive officer of Chindex.
Analysts said the creation of the joint venture is an important step for Fosun in becoming a more integrated pharmaceutical company.
"Fosun's business has covered almost all the major industrial chain including research and development, retail, medical equipment, and diagnosis," said Li Ying, an analyst from Taiwan-based Capital Securities Corp.
Related readings:


 Fosun to invest billions as it goes for global expansion


 Fosun plans investments in European luxury brands


 China's Fosun acquires 7.1% of Club Med


 Fosun Pharma rises on acquisition deal
Fosun's revenue surged more than ten times from 340 million yuan ($51.3 million) in 1998 to 3.87 billion yuan in 2009, Li said.
The deal is part of Fosun's share-purchase agreement released on June 14 to acquire more than 1.9 million common shares from Chindex. According to the agreement, Fosun planned to increase its stake in Chindex to 25 percent.
Fosun acquired 933,022 shares of Chindex's common stock in August, and the rest will be acquired upon the establishment of the joint venture.
Medical reforms in China guarantee that the pharmaceutical industry will be one of the best-performing sectors in the stock market, said Jin Yan, an industrial analyst from Zheshang Securities.
Sectors such as medical devices production, medical services and biopharmaceuticals have the brightest outlooks, said Sun Liang, an analyst at China International Capital Corporation Limited.
According to Sun, the pharmaceutical industry is promoting a structural change to boost its production scale and market value to a higher level. China may have pharmaceutical companies with market values of more than 100 billion yuan in the next three to five years.
Shares of Fosun closed at 13.38 yuan in Shanghai on Wednesday, up 1.29 percent.