Joint fund to invest $100m in private, high-growth companies
US buyout giant Carlyle Group will partner with Shanghai Fosun High Technology (Group) Co Ltd (Fosun Group) to create a yuan-denominated fund that will focus its investments on rapidly expanding companies in China.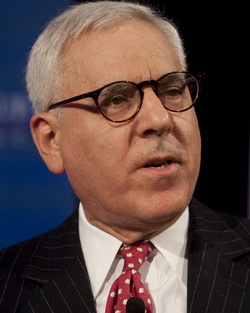 David Rubenstein, Carlyle co-founder and managing director.
Headquartered in Shanghai, the Fosun Group is one of the largest private-owned conglomerates in China.
Brian Zhou, Carlyle's China spokesman, told China Daily Wednesday that the new fund is ready to begin disbursing $100 million into various investment projects.
There are no specific sectors or industries that the fund would seek to invest in, he added.
"In terms of where to invest, there are no sector limitations. We're particularly interested in emerging companies that are privately owned. These companies should be reporting high-growth and be expanding both at home and abroad," he said.
He added that the average holding time for companies ranges anywhere from four to six years or longer, as opposed to the traditional investment period in the private equity industry of between three and five years.
Past performance, business potential and the right management team are important criteria for the fund before it decides to invest, he said.
These high-growth companies should be seeking out best practices in management, talent requirements, exposure to international resources and corporate governance.
"They are not looking for cash because they have it. They are searching for value to enhance their businesses," he said.
"We look forward to long term value-added and socially responsible investments. Carlyle can share its global experience, introduce talent and suitable partners, assist with branding, networks and broaden the access of these companies into the international playing field," Zhou said.
The launch of the new fund is not the first joint venture between Carlyle and Fosun.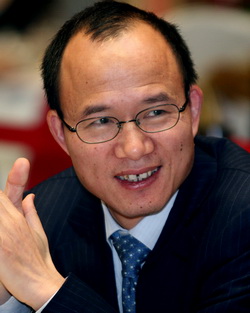 Guo Guangchang, founder and chairman of Fosun Group.
In September, Carlyle and Fosun jointly invested in Guangdong Yashili Group Co, a Chinese infant formula company.
Zhou said both Carlyle and Fosun would later seek more capital from Chinese investors for the fund.
"Fosun has an excellent track record in capturing China's growth opportunities. By working with local partners like Fosun, we expect to make investments that benefit small growth companies and enhance the local private equity industry," said David Rubenstein, Carlyle co-founder and managing director.
Guo Guangchang, founder and chairman of Fosun Group, said the fund would leverage the synergies created by Fosun's local experience and Carlyle's global expertise.
In addition, Carlyle is in the process of raising funds to launch a Chinese private-equity fund with the Beijing municipal government. Although details are still sketchy, he said the new fund would focus its investments on companies involved in larger projects such as education and retail.
In response to the new fund announcement, Jing Ulrich, managing director and chairwoman of China Equities and Commodities at JP Morgan Hong Kong said: "The deal appears to be a win-win for both parties. The jointly managed fund will leverage Fosun's diverse range of China business contacts and Carlyles' track record of successful private equity investment worldwide."
Related readings:


 Fosun hikes stake in Tongjitang


 Carlyle launches yuan-denominated fund with Beijing


 Buyout giant Carlyle favors SE Asia over India


 Carlyle buys minority stake in China dairy maker Yashili
In China, the opportunities to invest in high-growth companies are numerous and last year's launch of the ChiNext exchange presents private equity investors with an attractive exit option.
"China's private enterprises would certainly benefit from the inflow of capital from inside and outside the country," said Sang Baichuang, dean of institute of international economy at the University of International Business and Economics in Beijing.
He foresaw businesses in the new energy, physical distribution, hi-tech and environmental industries would benefit from private-equity investments.
Fosun Group has business interests in the steel, mining and property sectors and has assets under management valued at $10 billion. Carlyle has invested more than $2.5 billion in China in more than 40 deals. It manages $87.9 billion of assets globally in 65 funds as of Sept 30.