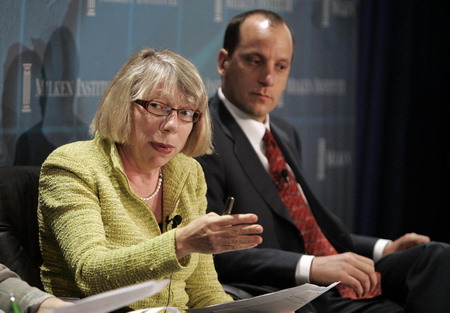 Barbara Krumsiek (L), president, CEO and chair of Calvert Group Ltd., speaks at a panel discussion at the 2009 Milken Institute Global Conference in Beverly Hills, California April 28, 2009. [Agencies]

HONG KONG: The Carlyle Group said on Sunday that the US private equity giant had bought a minority stake in Yashili to help the leading Chinese infant formula maker improve its research and production.
Washington-based Carlyle obtained a 17.3 percent stake in Yashili, headquartered in the southern Chinese province of Guangdong, according to an e-mailed statement from Carlyle, which disclosed no further financial details of the deal.
Related readings:


 Dairy scandal casts shadow over food exports


 Largest NZ company tapping vast dairy market

 China extends interest subsidy on loans for dairy producers


 Mengniu Dairy to sell 10% stake


 Dairy industry recovers as sales pick up
Carlyle's deal came after rivals including Kohlberg Kravis Roberts & Co (KKR), Sequoia Capital and other funds invested more than $1 billion combined in China's domestic dairy industry, which was badly hit by a food safety scandal last year.
The deal signified the growing interest of global private equity funds in China's consumer sector despite the international financial crisis.
More than a dozen Chinese dairy firms including market leader China Mengniu Dairy Co were found to have sold milk containing melamine during last year's tainted milk scandal, putting the Chinese government under pressure as families questioned poor quality controls.
With foreign investors buying stakes in Chinese dairy makers in the past few months, Chinese officials said the domestic dairy industry had shown opportunities for growth again.
"China's dairy industry presents a great opportunity for investment. We are pleased to see a value-adding partnership of this kind that draws on international resources to raise product standards," said Song Kungang, chairman of the China Diary Association, commenting on the Carlyle-Yashili deal.
Quality Control
In August, US venture capital firm Sequoia Capital said it invested $63 million in China-focused American Dairy Inc, a strong and direct competitor of Yashili in China's fast growing baby formula market.
In July, Hopu, a $2.5 billion fund set up by influential China dealmaker Fang Fenglei, teamed up with a domestic firm to buy 20 percent of Mengniu for $800 million.
In June, KKR said it completed a series of investments in Ma Anshan Modern Farming Co Ltd, a leading dairy farm company headquartered in central China.
"We see great scope to contribute to China's rapidly growing infant formula industry through this investment," said Patrick Siewert, senior director of Carlyle Asia Partners.
"The infant formula market in China is undergoing a positive transformation and is set to continue its strong growth trend."
After the deal, Carlyle will help Yashili hire an industry veteran as chief quality officer for the dairy maker and it also plans to strengthen quality control of dairy production through measures under international standards, Carlyle said in the statement.
In June, Carlyle said it raised $1.04 billion for its fourth Asian growth capital fund, a 46 percent increase from the previous fund size, to focus on investments in high-growth private companies in China, India and other Asian markets.