Firms lead the way in job creation, but still face heavier tax burden
BEIJING - China's top 500 private companies have surpassed State-owned enterprises in many indicators, especially tax payments and employment creation, according to a report from the All-China Federation of Industry and Commerce.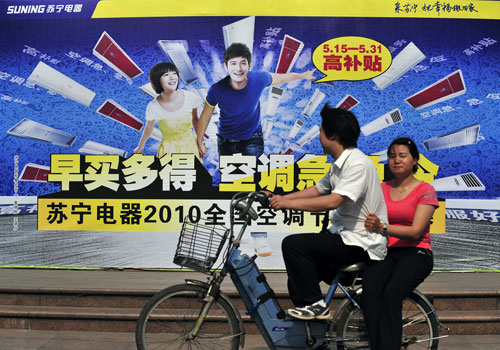 A couple passes a Suning Appliance advertisement in Nanjing. [Photo/China Daily]
The report was based on a survey of 3,600 private enterprises whose annual income exceeds 300 million yuan ($44 million). Entry to the top 500 required annual earnings of at least 3.66 billion yuan in 2009, up 23 percent from a year earlier.
Jiangsu Shagang Group, China's largest privately owned steelmaker, Suning Appliance, a Shenzhen-listed consumer appliance producer, and Legend Holdings Ltd were named the top three earners.
According to the report, the top 500 companies paid 177.6 billion yuan in tax last year, up 19.6 percent from a year earlier. Suning paid 300 million yuan, the highest amount by a private company.
The growth rate of the top 500 private companies' employment was 9.48 percent, more than 10 times higher than the country's average of 0.66 percent. Among them, at least one-third of the payrolls of 148 companies consist of college graduates.
Sun Anmin, vice-chairman of the All-China Federation of Industry and Commerce, said that 7.4 percent of the nation's new jobs in the past year were created in the private sector.
BYD, a Hong Kong-listed car manufacturer, created the biggest number of new posts - 162,803.
"One-in-five employees in this country work in the private sector," said Huang Mengfu, chairman of the federation.
The number of private enterprises reached 7.5 million, accounting for half of China's gross domestic product, 70 percent of the nation's technical innovations and 60 percent of its patents.
"The nation's private enterprises are leading the country out of the slowdown, without government subsidies," said Wei Jie, director of the National Center for Economic Research of Tsinghua University.
He added that "60 percent of these 500 companies have reached or even exceeded their 2008 earnings, and 30 percent are getting close to that level".
However, Wei pointed out that most private companies in China are in a relatively inferior position compared to State-owned enterprises. They have heavier tax burdens, face fiercer competitions and hardly enter upstream industries dominated by State-owned giants.

More stories:


 Chinese mainland grants more patents to private firms


 Private sector growth eases in July: HSBC

 'Private companies get majority of patents'
In the past year, the total net profits of China's top 500 private enterprises increased 40 percent.
But the 218 billion yuan total net profit of these 500 enterprises is still smaller than the combined net profits of China Mobile and PetroChina, the two biggest State-owned companies in terms of capital.
According to the report, more than 60 percent of the 500 enterprises are engaged in manufacturing, mostly in eastern China, especially Zhejiang and Jiangsu provinces.
Among the 500 companies, real estate, metal refining and processing, retail, cable manufacturing, apparatus manufacturing, and chemical fiber making are the most prominent sectors.
Huang said that some manufacturers are changing their core business, with around 60 of the 500 biggest private enterprises entering the medicine and new energy businesses in 2009.
Ouyang Xiaoming, vice-secretary-general of the All-China Federation of Industry and Commerce, said 70 percent of these companies aim to expand their primary business. Out of the 500 companies, 44 percent expressed their interest in properties.