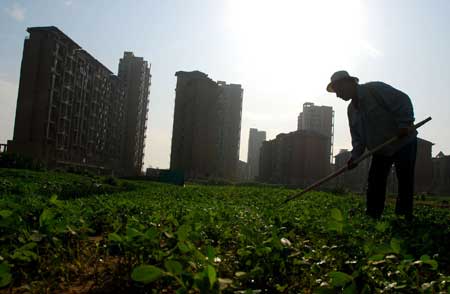 A man works on farmland near a new real estate project in a rural area of Huaian, Jiangsu province. Investment-led growth has created imbalances in development. Provided to China Daily

Increased consumption holds the key to nation's sustainable growth
NEW YORK - What should be China's "new beginning" - the theme of the summit of the leaders of G20 economies in Toronto this weekend?
The nation's agenda is a crowded one, as China considers how to continue to invigorate the economy and sustain the country's development in the upcoming 12th Five-Year Plan (2011-15).
Topping the agenda should be further reforms that ensure not only sustainable but also equal development, Chi Fulin, president of the China Institute for Reform and Development, told China Daily in an exclusive interview.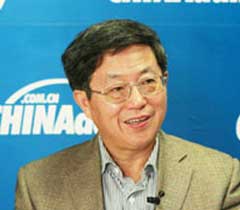 Chi Fulin, president of the China Institute for Reform and Development 
"Social equality and sustainability are not best served by the traditional growth model in China," he said. "China faces the second wave of reforms, that is, reforms in the mode of economic development."
Central to the change in the growth model is regulating the roles and duties of the government to improve its efficiency, Chi said.
The reforms will be more comprehensive than those launched by late Chinese leader Deng Xiaoping, as the government must transform itself from being a leader in economic construction to a public service provider, fully unleashing market forces to drive economic development, Chi said.
It will readjust the relations between interest groups, central and regional governments, and urban and rural areas, Chi said.
"China will undergo historic changes and the period of the 12th Five-Year Plan will be crucial," he said.
Agreeing that such changes are essential, Zhang Xiaojing, professor of economics and director of the macroeconomics department of the Institute of Economics at the Chinese Academy of Social Sciences, said that the reforms would be painful as some people and groups will have to pay a price.
Leading economists interviewed by China Daily in Washington, New York and London share the consensus that China must shift to consumption-led growth. Increased consumption will invigorate economic development in the next few years.
Investment-led development has already created glut and waste in industrial sectors, Nouriel Roubini, chairman of Roubini Global Economics and professor of economics at New York University, told China Daily.
Export- and investment-led growth will no longer work. How does China expect to increase its exports when the economies of the largest two importers in the world - the European Union and the United States - are in trouble and must save to deal with crisis, asked Domenico Lombardi, president of the Oxford Institute for Economic Policy at Oxford University.
Investment-led growth has also created imbalances in the economy and social development, affected the growth of consumption and contributed to the widening gap between the rich and the poor, Chi said.
In fact, the contribution of household consumption to gross domestic product (GDP) growth has been falling in the last few years, trailing behind India, Brazil and Russia, Chi said.
Figures show that household consumption currently accounts for 36 percent of GDP, down 15 percent from 1990 and lagging far behind the 70 percent in the US and over 50 percent in Japan and Europe.
Meanwhile, the All-China Federation of Trade Unions recently revealed that while wages accounted for 56.5 percent of the nation's GDP in 1983, this figure dropped to 36.7 percent by 2005.
It said 23.4 percent of workers complained that their wages had not risen in the past five years.
That is to say, the increase in GDP has not increased the wealth of individual households, Zhang from CASS said.
To increase consumption, China must first of all increase the incomes of low and lower-middle income households.
To accomplish this, China must boost its growth by accelerating the pace of its urbanization.
Chi said China's urbanization has not kept pace with its industrialization. Countries at the same level of development as China have achieved 55 percent or more urbanization, while the rate is only 46 percent in China.
Urbanization should be based on equality, as China should not continue the urban-rural twin-track system, in which the rural people have to make sacrifices for urban development.
Related readings:


 Patter of tiny feet not welcome until income secured


 New norm to better reflect income gap

 Agro income grows as farms go 'green'


 Minimum wage hike to bridge income gap
"The country owes a lot to rural people," Chi said. "More than 200 million migrant workers who have contributed to the growth of cities still cannot enjoy the same rights as urban people.
Worse, national household income from private properties has increased by 71 percent, but that income from properties among the nation's 700 million farmers increased just 3 percent. "Governments and business are the main beneficiaries of the land transfer," he said.
In the next five to 10 years, the government must ensure that all people enjoy the same opportunities to education, healthcare, housing and retirement and employment/unemployment benefits, Chi said.
At the same time, China must consider shifting from a high-carbon to a low-carbon economy. "China must speed up the restructuring of high-carbon industries through a relatively strict environment and resources tax and a carbon-exchange market," Chi said.
All of this requires political will and determination, Chi said, but the government must create a better environment to achieve equality in society and foster further economic development.