BEIJING - More and more residents in both urban and rural areas are holding off on having a child because of financial concerns, according to a recent survey.
Related readings:


 Couple loses welfare case after having extra child

 Every child gets equal education opportunity


 Young parents clash over child's surname
The study, conducted by Horizon Research Consultancy Group (HRCG), polled 3,262 people above the age of 18. It found that the purchase of a home and securing a reasonably high income were important preconditions for couples before they would consider having a child.
More than 60 percent of urban respondents said they wanted their own home before they would bring a baby into the world. And almost 9 in 10 rural respondents said a strong economic foundation was a prerequisite for childbirth.
In terms of finance, couples in first-tier cities, such as Beijing and Shanghai, said they would not consider having a child while earning less than 8,000 yuan ($1,171) a month. In second-tier cities, people would think about starting a family if they earned at least 5,100 yuan. In county-level cities, the threshold was about 4,500 yuan.
Respondents without children but who were expecting to have a baby had an average age of 27, which was two years older than the age doctors believe is the optimum time for childbearing.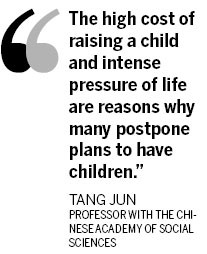 The actual age at which urban residents now have a child is 27. Rural residents have their first child on average three years earlier, at 24.
"The high cost of raising a child and intense pressure of life are reasons why many postpone plans to have children," Tang Jun, a professor with the Chinese Academy of Social Sciences, was quoted as saying in the Mirror Evening News.
The cost of having a baby delivered has soared in recent years, from about 400 yuan in the 1980s to more than 4,000 yuan today, said an expert in obstetrics.
And the cost of raising a child to the age of 16, including the educational investment, was estimated at 480,000 yuan in a 2004 study led by Xu Anqi, a researcher at the Shanghai Academy of Social Sciences.
Another reason why people are waiting longer to start a family is that couples are more interested than ever in improving their own quality of life, Tang added.
The survey also found that, while the current family planning policy allows couples to have two children if both parents are sole children, only about 40 percent of those qualified to do so actually want two children.
However, when the entire group of parents with one child, including those not qualified to have a second under the family planning policy, was asked whether they would like another child, more than half said yes.
The survey further revealed geographical diversity in people's choices. Those in Wuhan and Beijing seemed especially keen on being DINKS (Double Income No Kids), with 10 percent and 9 percent of couples in the respective cities choosing not to have children at all.