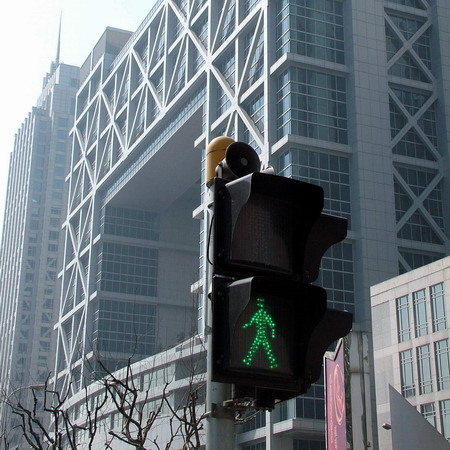 The Shanghai Securities Exchange building. The government is likely to give the green light to the international board within this year.[JING WEI / FOR CHINA DAILY]
International board likely to debut this year, say local government officials
SHANGHAI - The international board for listings by foreign companies will make its debut in Shanghai later this year, a top official from the city's financial regulator said on Wednesday.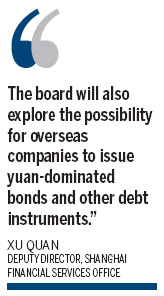 Xu Quan, deputy director of the Financial Services Office of the Shanghai government, said the China Securities Regulatory Commission is currently studying the final draft of the listing rules.
The Shanghai Stock Exchange (SSE), on its part, is working out the modalities for trading and governance of the international board as it would have rules, which are different from the main board, said Xu.
"We will launch the board once we complete all the preparatory work," he said.
The plan to allow foreign firms to float shares in Shanghai is in line with China's efforts to widen investment channels for domestic investors and fast track the development of its capital markets.
The State Council, China's cabinet, said in a statement on Tuesday that it will support qualified foreign-domiciled companies to sell shares publicly, issue corporate bonds and medium-terms notes on the mainland.
Several foreign firms have already expressed their interest in listing shares in Shanghai. These include the Hong Kong-listed HSBC Holdings Plc, Standard Chartered Bank, Bank of East Asia, General Electric from the US and Brazilian mining giant Vale.
SSE Chairman Geng Liang said in March that overseas companies could list on the new board through initial public offerings or China Depositary Receipts.
"The (international) board will also explore the possibility for overseas companies to issue yuan-denominated bonds and other debt instruments. It is a priority project on our (Shanghai municipal government) agenda," said Xu.
Related readings:


 Shanghai Exchange accelerates Int'l board


 HSBC ready for float in Shanghai: CEO


 Top legislator urges economic mode transformation in Shanghai


 Shanghai challenges HK on IPOs
Shanghai got the backing from the central government in March 2009 to develop the city into an international financial center by 2020. The blueprint outlined the key role the city would play in the future economic development of China.
The Shanghai bourse is also planning to introduce a range of financial derivatives, Xu said.
Products in the pipeline include share index futures and cross-border exchange traded funds. The bourse will also start margin trading in designated stocks from Friday.
According to Xu, foreign investors can invest in yuan-denominated private equity funds through the pilot qualified foreign limited partnership (QFLP), scheme.
Under the rules, foreign capital raised by QFLPs should not exceed 50 percent of the total asset value of fund, said Jiang Liang, governor of the Pudong New Area.
"An international financial hub should also have the capability to be a center of wealth management," Xu said. "The city government would take the necessary steps to foster private equity in Shanghai."
The State Administration of Foreign Exchange is currently working out the regulations for QFLPs, including the exchange settlement and measures to decide the effectiveness of the project invested by such funds.