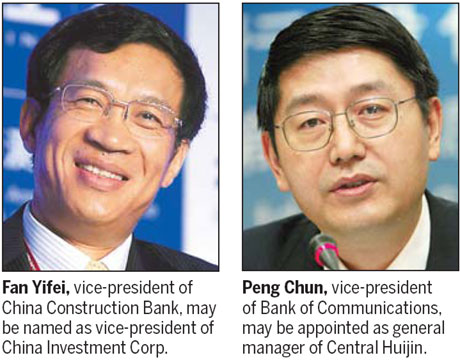 BEIJING - Bank of Communications (BoCom) Vice-President Peng Chun will soon take the helm of Central Huijin Investment Ltd, the domestic investment arm of the country's $300 billion sovereign wealth fund, people with knowledge of the matter said.
Peng, 48, will replace Xie Ping, who stepped down as head of Central Huijin earlier, but remains a vice-president of China Investment Corporation (CIC), the entity managing the $300 billion fund, the source told China Daily on Friday.
In another appointment, Fan Yifei, vice-president of China Construction Bank (CCB), will transfer to CIC as a vice-president, the source said.
Reports said Fan will be in charge of CIC's IT and business operations, while Xie will work as CIC's deputy chief investment officer assisting general manager Gao Xiqing on overseas investments.
Though spokespersons for the companies involved could not be reached for comment, sources said the two listed lenders are likely to announce the top management change in the next few days.
The reshuffle, the second in the eight years since Central Huijin was established in 2003, came as the country's top State-run lenders are gearing up to offer new shares to replenish capital and Agricultural Bank of China (ABC), the only one of China's four major State-owned lenders yet to be listed, set the ball rolling for its initial public offering (IPO).
On behalf of the government, Central Huijin holds controlling stakes in major State-run banks, including Industrial and Commercial Bank of China, CCB and Bank of China, and is likely to buy into ABC through its planned IPO this year.
Market watchers said the pressing tasks for Peng after taking the new post are to help facilitate major lenders' fundraising plans and push ahead with ABC's offering.
Faced with hefty offerings from top lenders, Central Huijin's financial strength has been insufficient to participate in all of them. Its parent CIC has asked the State Council for a capital infusion in an effort to support the lenders' fundraising plans.
Working for BoCom for 16 years, Peng is described by industry insiders as a capable and modest person with a leadership style far different from Xie's approach.
After graduating from the People's Bank of China's Graduate School, the alma mater of many of the country's top financial officials, Peng joined BoCom in 1994 and was involved in many key issues, including the restructuring and public listing of the bank in 2006 and taking HSBC on board as a strategic investor.