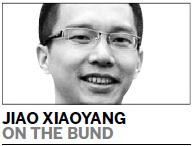 Frustrated by the market's performance over the past eight months, Chinese investors may take solace - and a bit of advice - from the session of the National People's Congress just ended.
Business and political leaders, it seems, are just as frustrated.
Central bank governor Zhou Xiaochuan told reporters at the NPC that striking the right balance between economic growth and inflation was "very complicated".
With the price of real estate on everyone's mind, housing minister Jiang Weixin conceded that home prices would remain high "in the coming two decades".
And Shang Fulin, chairman of China Securities Regulatory Commission, admitted he wasn't sure where the market was going. "A stable market doesn't mean the index has to keep moving sideways, but the current circumstances are really complicated," was how he put it.
If these top policymakers must watch their step, is it any wonder investors are treading lightly?
At a news conference on Sunday, however, Premier Wen Jiabao seemed to shed some light on an otherwise murky situation. Consider his words, from a market perspective.
1. "Should the economy fall back, the loss would be too much."
Interpretation: Don't expect any great surprises in interest rates.
The market has been worrying for months about a possible hike in interest rates, as the economy shows signs of recovery and indications of inflation arise. But to top policymakers, these problems apparently are less daunting than another downturn in the economy. They have no interest in launching another 4-trillion-yuan ($586 billion) stimulus package.
China's current interest rate is already higher than the near-zero rates in many Western countries. A further rate increase would only encourage currency speculation.
The central bank may use quantitative measures such as raising bank reserve ratios to squeeze liquidity and curb inflation, but it will likely refrain from raising interest rates sharply, which might have more serious side effects at a time when the economy has yet to settle.
2. "We oppose an exchange of reproaches and even forceful ways to let a country's currency appreciate, which is not good for the reform of the renminbi exchange rate."
Interpretation: Things would be better had US President Barrack Obama kept quiet on the issue.
Technically, a rebounding economy, increased exports, and inflationary pressures support detaching the yuan from the US dollar. Central bank governor Zhou told the NPC that sooner or later, ending the stimulus would spell the end of the "special yuan policy" adopted to counter the financial crisis.
Pressure from Western politicians has simply made revaluation more difficult, as Beijing does not want to be seen as bowing to outsiders on this issue. Answering a question about the exchange rate on Sunday, Premier Wen first re-iterated his belief that the yuan is "not undervalued" before elaborating on his policy.
From 2005 to 2007, the Shanghai Composite Index jumped more than five-fold, while the yuan appreciated more than 13 percent against the US dollar. Since 2008, the rate has been pegged at around 6.83 yuan to the dollar, in order to staunch the global financial crisis.
Anticipation of revaluation sometime this year has already caused ripples in the Chinese market, notably in businesses tipped to benefit from the process such as banks, developers and papermakers. Chinese investors have every reason to hope that President Obama and his aides will put a sock in it.
3. Conspicuously absent from Premier Wen's remarks: The real property market.
More than half of the proposals from legislators and advisors at this year's NPC and CPPCC sessions involved the real property market, yet Premier Wen was silent on this subject on Sunday.
Related readings:


 No change in interest rates?


 CPI rise stokes inflation fears


 Inflation set to stay under control


 Stocks fall on fears of rate hike


 Feb inflation indexes rise as new loans fall by half
The Premier's position was stated in his work report on March 5. He promised to "curb the excessive growth of housing prices in some cities" and to build more subsidized homes for low-income citizens. There was no promise to halt the rise in prices, no pledge to put the brakes on the industry that has generated most of China's billionaires.
The administration's calm and pragmatic approach is an indication of its thorough understanding of this issue. This should calm fears of a double-dip economic recession, led by the collapse of a sector that contributes a huge share of GDP growth, accounts for trillions of yuan of bank assets, and feeds dozens of other industries.
The current consolidation of the Chinese stock market was led by a slump in real estate stocks, amid fears of a government clampdown on developers. Once the market realizes it overreacted, a correction seems likely.
4. "Walking or swimming, exercise makes me feel relaxed and energetic enough to deal with heavy workloads."
Interpretation: No matter how disappointing the market may be, investors should live a healthy life. In this regard, we should all learn from our respected premier.
The author is executive business editor of China Daily.