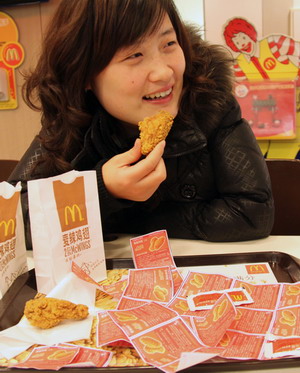 A woman takes advantage of the promotion at McDonald's in Beijing yesterday. [China Daily] 
SHANGHAI: McDonald's on Wednesday allowed coupons issued by its competitors to be used on its McWings or fried chicken wings, stepping up the fierce competition in the country's fast-food industry.
Along with lowering the price of a pair of McWings from 7 yuan ($1) to 5 yuan, fried chicken wing coupons from any restaurant, including arch-rivals KFC and Burger King, can be used in McDonald's outlets nationwide to get an additional 10 percent discount.
According to Ren Yuan, a senior public relations manager with McDonald's China, the promotion will last from Feb 24 to Mar 23, and is the first of its kind since the fast food giant's entry into the Chinese market in 1990.
While coupons are frequently used to boost sales, taking coupons issued by competitors is rarely seen in the fast food industry.
"Legally, I do not think McDonald's did anything wrong, as long as it did not make the price too low," said Zhang Huiqing, who specializes in consumer law with Shanghai Wongliping Law Firm. "It is just a type of sales promotion."
With the discount, the price of a pair of McWings will be 4.5 yuan, while the pre-discount price of chicken wings at KFC and Burger King is 8 yuan.
"I think I will have more chicken wings here in the future, because they are getting real cheap," said a customer surnamed Qin in the McDonald's middle Huaihui Road store.
KFC, which now has more than 250 stores in Shanghai, claims quality is the essential ingredient in a restaurant's success.
Related readings:

 KFC inks 5b yuan deal with 3 local suppliers

 KFC expansion plans undeterred by economic crisis


 McDonald's growing in China


 KFC adds shaobing to set menu

"Different companies have different marketing skills, but what the customers care about the most is quality," said a public relations manager surnamed Bai with Yum! Brand China, KFC's parent company.
KFC launched its business on the Chinese mainland in 1987. Industry analysts say its business in China is more successful than McDonald's.
While McDonald's tried to convince skeptical Chinese to buy hamburgers by offering low prices, KFC spiced up its menu with barbecue squid, egg tarts and other items tailored to local tastes.
Today Yum! is China's top restaurant operator, with more than 3,400 outlets. The country accounts for 36 percent of its total sales, just behind the US, while McDonald's had 1,135 stores in China in 2009.
Kenneth Chan, CEO of McDonald's China, said the company plans to aggressively expand the number of its drive-through outlets and McCafes by opening up 150 to 175 new stores in China in 2010.