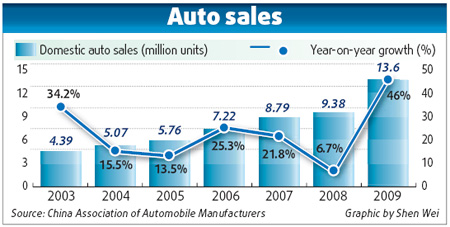 China's vehicle sales may experience a significant slowdown this year because of a large base but growth in the sector is still expected to be impressive, the Ministry of Commerce said on Friday.
Auto sales this year are forecast to surge a little more than 10 percent from last year's figures to more than 15 million units, the ministry said.
The country's auto sales last year grew by 46.2 percent year-on-year, the fastest in more than a decade. Last year, 13.65 million units were sold to mark the nation as the world's largest auto market by overtaking sales in the United States for the first time.
"We are still confident of sales for 2010, as the government's policy to stimulate consumption at all levels will continue. But the robust growth momentum of last year cannot be sustained," said Chang Xiaochun, director of the department of market system development under the Ministry of Commerce. "Double-digit growth is not a difficult goal."
Auto analysts said the robust growth last year was mainly attributed to the government's stimulus packages.
Last year, China halved the sales tax on vehicles with an engine capacity of 1.6-liter or less to 5 percent. The authorities also provided 5 billion yuan ($732 million) in cash to help consumers replace old vehicles.
Sales of small vehicles reached 7.2 million units in 2009, up by 71 percent from 2008, while auto sales in rural areas also surged by 85 percent to 2 million units, ministry statistics showed.
To maintain stable growth in the auto market, the government last month also extended stimulus measures for another year, raising the tax on smaller cars to 7.5 percent from a favorable 5 percent last year.
"The budget allocated for the renewable vehicle program will rise by large margins and the subsidy for certain categories of vehicles will grow by 200 percent," Chang said.
But most analysts interviewed also said growth in the sector this year will not hit levels seen last year because of a large base.
"It will range from 15 to 20 percent, but China is expected to continue leading the global auto market," said Tan Jijia, an auto analyst from the Beijing-based Pacific Securities.
Klaus Maier, president and CEO of Mercedes-Benz China, told China Daily in an earlier interview that China's auto industry is expected to grow by 10 percent to 15 percent this year.
Related sectors to benefit
Other sectors are expected to gain from the auto sales growth.
"The double-digit growth means an optimistic prospect for steel mills that produce auto sheets," said Yu Liangui, an analyst from the Shanghai-based steel consulting firm Mysteel.
"All auto steel sheet producers in China ran with full capacity last year and they plan to expand capacity this year," Yu said.
China's largest steel maker, Baosteel, also announced enlarging its auto sheet capacity by 15 percent in 2010.
Related readings:


 World's top auto market keeps expanding


 HK float for Guangzhou Auto


 Analyst: Red-hot China auto market set to cool a bit this year


 Wonder gains greater access into auto safety and electronic systems market
No more than 10 steel mills in China produce auto steel sheets because of the high value-added aspect of the sector.
"The competition is not fierce. All of them can reap profits from the booming auto market," Yu said.
Auto steel sheets consumption stood at 20 million tons in 2009, accounting for 4 percent of the country's total steel consumption, figures from industry portal Mysteel.com showed.
Lin Boqiang, director of the China Center for Energy Economics Research at Xiamen University, said the growth in the auto industry will also boost the nation's crude oil imports, which surged 14 percent last year.
"More than 50 percent of the imports were consumed by the auto sector and the figure will grow this year," Lin said.
Zhang Qi and Wan Zhihong contributed to the story