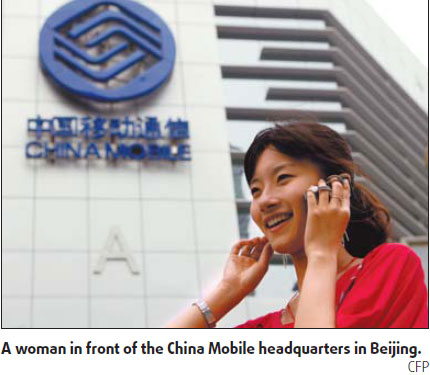 China Mobile Ltd agreed to buy 12 percent of Taiwan's Far EasTone Telecommunications Co, the first direct investment by a mainland State-owned company in the island in six decades.
China Mobile will pay NT$17.8 billion ($528 million) for the stake, gaining access to advanced technology as it prepares to start high-speed services in the mainland. Far EasTone will tie up with the biggest phone company in the world's largest telecommunications market.
"Taiwan is in a more advanced stage of development in both 3G-technology application and value-added data services," China Mobile said in a statement yesterday. The deal will "help the company provide more comprehensive services to its customers".
Related readings:


 China Mobile Q1 net profit up 5.2% at $3.7b


 China Mobile eyes rural market


 China Mobile Q4 profit increases


 China mobile reports 30% net profit in 2008
China Mobile will pay NT$40 a share, a 14 percent premium, for the stake, the Hong Kong-listed company said in an exchange filing yesterday.
The proposed deal is the second stake purchase for China Mobile outside of the mainland.
In 2006, the Beijing-based company took over Hong Kong wireless carrier China Resources Peoples Telephone. In 2007, parent China Mobile Communications Group Corp bought Paktel Ltd.
The latest stake purchase will be another step toward enhancing trade and economic exchanges across the Taiwan Straits.
The Chinese mainland economy, the world's third largest and Taiwan's biggest trading partner, expanded at an average of 9.8 percent in the past 30 years, outpacing Taiwan's 6 percent average in the same period.
"This (the stake acquisition) is in line with Taiwan's policy of opening up to the mainland and in line with mainland businesspeople's appetite to expand outside the mainland," Liang Kuo-yuan, head of Taipei-based Polaris Research Institute, said by phone. "The valuation of Taiwan's listed companies isn't very high, I am sure there will be more deals in the coming years."
Far EasTone shares climbed 1.4 percent to close at NT$35.20 in Taipei yesterday, stemming its decline this year to 5.6 percent compared with a 22 percent advance in the benchmark Taiex index.
China Mobile, which is 74.3 percent owned by State-owned China Mobile Communications, added 2.3 percent to close at HK$67.80 in Hong Kong and has dropped 13 percent for the year.