Chinese companies boost UK economy
Updated: 2013-12-02 00:29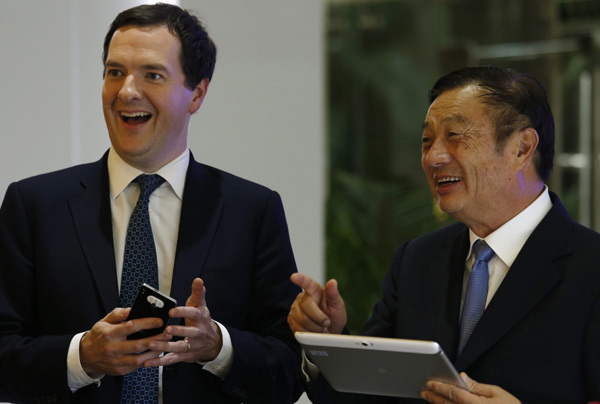 British Chancellor of the Exchequer George Osborne (left) and Huawei CEO and founder Ren Zhengfei talk at Huawei's headquarters in Shenzhen on Wednesday,Nov 16, 2013. Huawei

said it will invest $200 million to construct a new research and development center in the UK.

 [Photo / Provided to China Daily]
Tracker shows 25 key firms are contributing jobs and revenue
Chinese companies are thriving in the UK and making a significant contribution to the UK economy, according to the Grant Thornton Tou Ying 25 tracker 2013.
The tracker, in collaboration with China Daily, monitors UK businesses with Chinese parent companies to identify the fastest-growing 25 companies by year-on-year change in turnover. The 2013 tracker monitors revenue growth for the full years ending in December 2011 and 2012.
The 25 companies are making heavyweight contributions to the UK economy, having employed more than 2,600 people and generated more than 17 billion pounds ($27.83 billion) in revenue in 2012, a 27 percent year-on-year increase. Even the slowest-growing company grew by 9 percent.
Nick Farr, partner and head of the China-Britain Services Group at Grant Thornton UK, said UK Prime Minister David Cameron's visit to China this week, as well as several other recent high-profile trade missions, have put Anglo-Chinese trade firmly in the spotlight.
"As the number of Chinese companies going global continues to rise, the UK appears to be well and truly open to Chinese investment, benefiting hugely from the inflow of funds," Farr said.
Farr said some policies recently announced by the British government, for example simplifying the visa application process for Chinese people, would also help nurture the relationship.
The growth tracker demonstrates the diversity of Chinese investment in the UK, as industries represented include banking, energy, manufacturing, retail and technology and telecommunications, among others, he said.
Of the 25 companies, 20 grew organically and the rest expanded through acquisition. About half of the companies are based in London, with the remainder distributed across the UK.
The selected companies all have minimum revenues of 5 million pounds ($8.19 million), have at least 51 percent Chinese ownership and have been trading since at least the beginning of 2011.
Stephen Phillips, chairman of the China Britain Business Council, said the UK's level of openness to foreign investment and its level of access to the European market are strong attractions for Chinese investment.
"Chinese companies that set up here have access to some of the very best financial and professional services that the world has to offer, making it easier to grow and expand their business," Phillips said.