Daimler revs up with key stake in BAIC
Updated: 2013-11-19 16:45
German vehicle manufacturer Daimler AG said on Tuesday that it has completed the purchase of a 12-percent stake in its Chinese partner BAIC Motor, the passenger car unit of Beijing Automotive Group, known as BAIC Group, becoming the first foreign automaker to hold a significant equity position in a Chinese company.
The deal means Hubertus Troska, member of the board of management of Daimler AG, responsible for Greater China, and Bodo Uebber, member of the board of management and chief financial officer of Daimler AG, will both have seats on the BAIC Motor board of directors.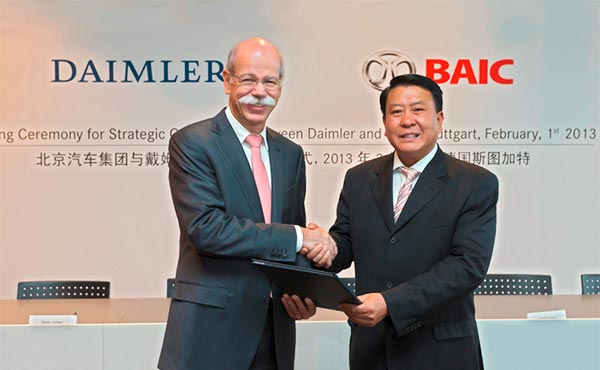 Dieter Zetsche (L), Daimler's Chairman of the Board of Management and Xu Heyi, Chairman of the BAIC Group, at the ceremony for strategic cooperation on Feb 1, 2013. [File Photo/Daimler.com]
Moreover, the two companies also agreed that BAIC will increase its stake in their production joint venture Beijing Benz Automotive Co by 1 percent to 51 percent to consolidate the joint venture within BAIC ahead of its IPO.
At the same time, Daimler will increase its share in the newly integrated sales joint venture Beijing Mercedes-Benz Sales Service Co by 1 percent to 51 percent.
To further cement the partnership, BAIC chairman Xu Heyi earlier told Chinese media that the Beijing-based automaker is also mulling an investment in Daimler, depending on the market situation and how much funds it has at its disposal.
Dieter Zetsche, Daimler's chairman of the board of management and head of Mercedes-Benz Cars, told China Daily on Tuesday in Beijing that the German automaker is open to any possibilities on the issue, including interest from the Chinese company, however, no potential agreement had been reached yet.
Xu, of BAIC, confirmed last week that the group's overseas listing plan is now going through a comprehensive evaluation and will be completed in the first quarter next year.
The advanced service industry and logistics advantages make Hong Kong one of the stock markets being considered by the company.
Daimler said in August that it is heavily investing 2 billion euros ($2.7 billion) in BBAC, to make it the largest Daimler production facility in the world by 2015, through more than doubling the annual capacity to 200,000 units.
On Monday, Daimler opened its first passenger-car engine plant outside of Germany, in Beijing, manufacturing four and six-cylinder engines to power the passenger cars produced at BBAC and Mercedes-Benz vans produced locally at the joint venture Fujian Benz Automotive Co Ltd.
With total investment of 400 million euros, and being based on a flexible production-line concept, annual capacity is planned for 250,000 units in the initial phase.