Luck tough for would-be car buyers
Updated: 2013-11-11 08:10
Auto aspirations fade as capital tightens limits
For Liu Chenyu, the chances that she will be able to own a car in Beijing seem to get slimmer all the time.
At the lottery to receive one of the capital's limited number of license plates in late October, the odds were 90-to-1 against her winning and once again, she was disappointed.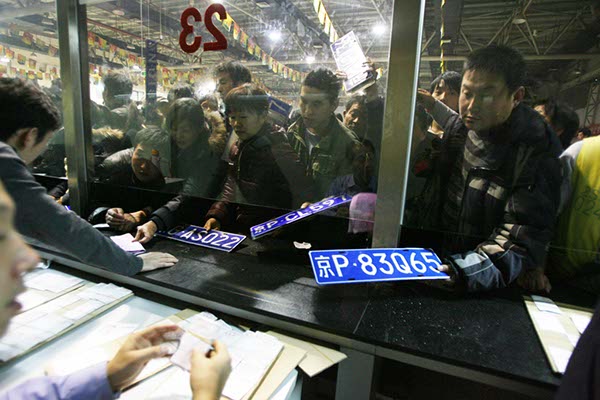 Beijing will issue fewer license plates starting in 2014 despite buyers' enthusiasm. [Photos Provided to China Daily]
The 28-year old translator registered her name in the lottery system immediately after she obtained a Beijing hukou in March, although she acquired her driving license in 2009, when she was a senior student in a Chengdu-based university.
"There is little hope now. It will get more difficult to get picked as there will be much fewer license plates starting in 2014," said Liu with a listless smile.
According to an emission-control plan the city government released on Nov 4, the number of license plates for small passenger vehicles that it issues each year will stand at 150,000 from 2014 to 2017.
That is a 25 percent fall from the current figure of 240,000 each year since the lottery system was initiated in January 2011.
Though the system was originally designed to curb traffic congestion, the reduction in the number of license plates is meant to alleviate the city's notorious air pollution, according to the plan.
Vehicle exhaust has become a major culprit of the poor air quality in Beijing, People's Daily reported.
It accounted for 22.2 percent of the city's PM 2.5 pollutants in 2012, followed by coal burning, which contributed 16.7 percent, it reported citing statistics from the city's environmental protection bureau.
It might be because of this that the share of green cars has risen gradually in the city's new license plate system.
According to the newly released plan, there will be 20,000 plates for electric or other clean-energy vehicles in 2014 and 30,000 in 2015.
The figure will double to 60,000 in 2016 and 2017, accounting for 40 percent of the total.