January vehicle sales surge 45.4%
Updated: 2013-02-08 09:47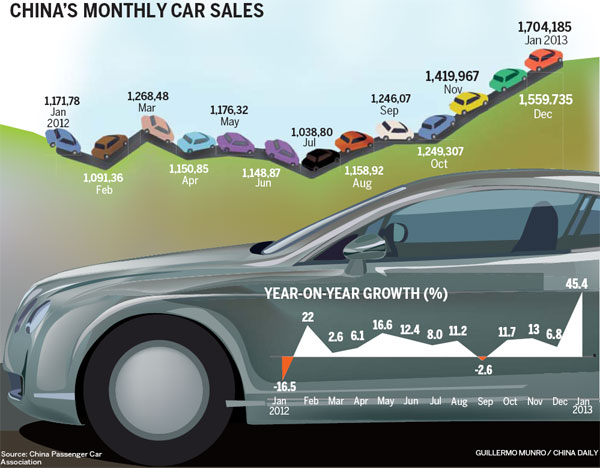 Sector back on growth track after two-year slowdown
China's passenger vehicle sales in January surged more than 45 percent from a year earlier, the largest year-on-year growth since April 2010, indicating the sector is shifting gear back into high-speed growth after a two-year slowdown.
A total of 1,704,185 cars, sport utility vehicles, multi-purpose vehicles and minivans were delivered in the nation in January, up 45.4 percent over January last year and a 9.2 percent increase from the previous month, the China Passenger Car Association said on Thursday.
"Such high growth was a result of five more working days in January and more than 10 days of a slack market in January last year due to an early Spring Festival," said Rao Da, secretary-general of the association.
"The rebound in the national economy also supported vehicle purchases."
He added that it would be reasonable to expect a more than 35 percent month-on-month fall in sales growth in February, as the approaching week-long Spring Festival holiday reduces working time this month by five days.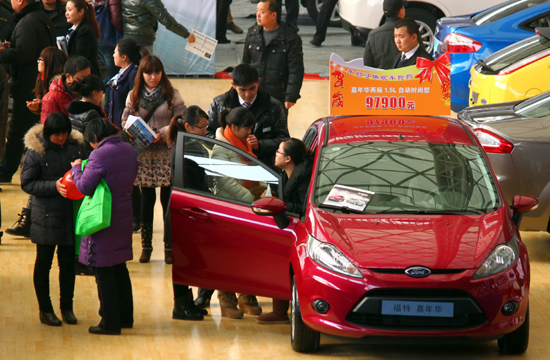 Visitors flock to an auto show in Nantong, Jiangsu province. China's car sales in January rose 9.2 percent from the previous month, the China Passenger Car Association said. [Photo/China Daily]
However, he pointed out that combined sales in the first two months of 2013 are likely to see growth rise by 25 percent year-on-year.
"The downturn since the government withdrew stimulus measures at the end of 2010 has ended. The passenger vehicle market is returning to high-speed growth," said Rao.
General Motors, the largest foreign automaker in China in terms of sales, said on Tuesday that January was the first month in which it and its joint ventures sold more than 300,000 vehicles in a single month, an increase of 26 percent year-on-year.
US automaker Ford Motor Co's passenger vehicle sales surged 135 percent to 44,439, also reaching a record high for January.
Even the three Japanese automakers, Toyota, Honda and Nissan, whose sales were seriously hit by Chinese consumers' avoiding Japanese products amid rising anger over Tokyo's illegal "purchase" of China's Diaoyu Islands, all saw their sales rise around 20 percent in January after sharp declines for four months.
Although dealers' inventories dipped slightly for four consecutive months, the fast-increasing sales made the China Automobile Dealers Association declare a red alert over an inventory rebound after Spring Festival.
According to the Vehicle Inventory Alert Index the association released this week, in January, the alert index gained 0.9 percentage points to 45.26 percent, warning dealers to pay attention to a growing inventory.
"As automakers all readjusted their sales targets last year amid a market slowdown, the inventory at dealers was eased at the end of 2012. However, a sharp reduction in sales in February from January due to fewer working days brings the high risk of inventories accumulating after the holiday," said Luo Lei, deputy secretary-general of the association.
According to the association's survey of more than 1,000 automobile dealers covering 50 major vehicle brands across the country, due to the Spring Festival holiday, most dealers expect business to worsen in February.
"Dealers and automakers should take measures to cope with the sharp drop in vehicle demand after the holiday, in a bid to avoid the inventory rebound," said Luo.
lifangfang@chinadaily.com.cn