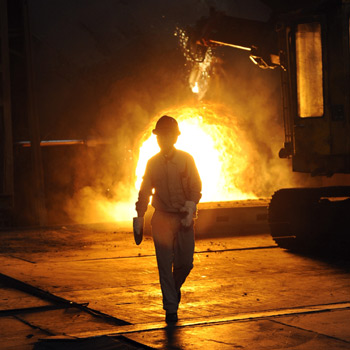 China's crude steel output touched 50.7 million tons in September. [China Daily]
China's daily steel production in September matched the previous month's record, the nation's statistical body said yesterday, and output was likely to remain high during the rest of the year despite efforts to curb oversupply in the industry, analysts and industry insiders predicted.
The country's crude steel output touched 50.7 million tons in September, up 29 percent from September 2008, but down 3.1 percent compared to the August record, according to figures released by the National Bureau of Statistics yesterday.
On a daily basis, however, September's output matched August's daily output of 1.69 million tons.
The government said last Monday that it would curb the expansion of six sectors including steel by withholding approval for new investment and by tightening financing.
Although oversupply had pushed steelmakers to cut prices and squeezed their profit margins, it was unlikely they would curb production, leading to high output in the rest of the year, according to analysts and steelmakers.
"Chinese steel mills remain reluctant to reduce production as long as they can maintain operations even when they are suffering from poor profits or mild losses," said Xu Xiangchun, a senior analyst at consultant firm Mysteel. "That's because they need to battle for market share. Cutbacks only happen when steelmakers are forced to curb production due to heavy losses."
A sales manager from a private steel company agreed. He said fierce competition meant his company would not curb production.
"Everyone is expecting other competitors to reduce production. Even if most steel mills feel it is a tough time now they won't make cutbacks unless they cannot afford the losses, like a loss of 500 yuan ($73.24) per ton," he said.
"So, I believe steel output will continue to be robust in the next few months since domestic steelmakers all remain reluctant to reduce production."
Related readings:


 China's crude steel output hits record high in August


 China's crude steel output to top 500m tons in 2009


 China's steel output, prices up in May


 China steel makers report losses as output rises
"However, if the spot iron ore prices jump too high or the supply of iron ore is too tight, we might be forced to curb production," he said, adding the three key global miners have stopped delivering spot iron ore for nearly three months to trading companies, from whom small steel mills usually buy iron ore.
Traders who turned to buy iron ore from other miners said the spot price of ore has jumped 3 percent since the industry conference held last Friday in Qingdao, which is usually regarded as the unofficial start to benchmark price negotiations for the next contract year.
"Spot iron ore prices usually soar every year after the conference," he said.