China's November PPI down 1.4%
Updated: 2013-12-09 09:48
BEIJING -- China's producer price index (PPI) contracted 1.4 percent year-on-year in November, following a 1.5-percent drop in October, data from the National Bureau of Statistics showed on Monday.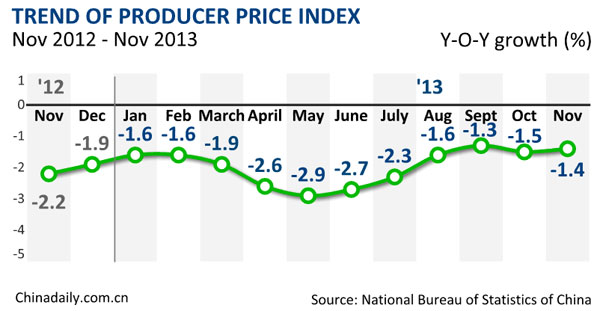 The index, which measures inflation at the wholesale level, has been in deflationary territory for 21 consecutive months.
In the first eleven months of the year, the index fell 2 percent from the same period last year, the NBS said.
The PPI held steady month-on-month in November. In October, it also remained unchanged from the preceding month.
The NBS said the consumer price index rose 3 percent from a year earlier last month, slipping 0.1 percentage point compared with October and undershooting the market forecast of 3.1 percent for the month.
The data came one day after the country's customs released trade data, which showed the trade surplus widened last month to the largest in more than four years as exports outperformed market expectations due to improved data in the United States and the European Union.
Market reactions to the price index numbers were mixed. The benchmark Shanghai Composite Index edged down 0.09 percent to close the morning session at 2,235.20. The Shenzhen Component Index rose 0.01 percent to end at 8,527.51.