Assembling ideas for Ikeas in China
Updated: 2012-02-16 09:44
By Tang Zhihao (China Daily)
| | | | | | | | | | | |
| --- | --- | --- | --- | --- | --- | --- | --- | --- | --- | --- |
|   | | Comments() | | Print | | Mail | | Large Medium  Small | 分享按钮 | 0 |
Retail president looks to increase outlets of maker and designer of home products
SHANGHAI - Gillian Drakeford, Ikea China retail president, is keen to see her company make the most of what the market has to offer here.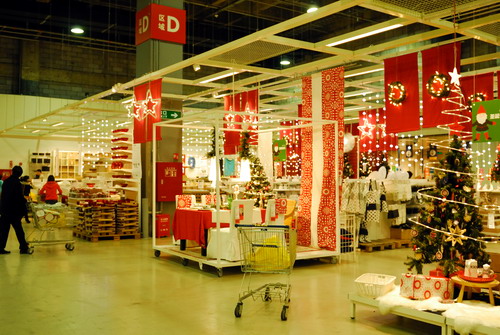 Ikea's store in Pudong district, Shanghai, which is the Swedish home products company's largest outlet in Asia and the second-biggest in the world. [Photo/China Daily]
"There are so many opportunities, and you can see the opportunities out there. The biggest challenge is to prioritize the opportunities. One thing we find is the more we do, the more we see," said Drakeford. "You should not be satisfied with what we have today. You should be always moving and you are on the way if you are."
The dynamic market conditions in China do impose great pressure on her. However, the positive sales growth rate in the country and foreseeable huge market potential make her life not altogether demanding and a little bit exciting.
"I think it is a much more positive environment here than some environments my colleagues are faced with overseas. They are working with negative growth from economic slowdowns or other reasons. I do not have that problem because this market is about growth," said Drakeford.
Drakeford started to work with Ikea, the Sweden-based international home products company, in Hong Kong at the end of 1998. She is living with her family in Shanghai now. Drakeford said she began to understand Chinese culture and Chinese lifestyle after living in Hong Kong for four years. Attracted by the fast-changing economic environment in China, she decided to cross the border to experience it first hand. Her first position at Ikea on the Chinese mainland was as a store manager in Beijing.
"I was thinking about what to do next after I left the United Kingdom. I was really interested in the Chinese mainland's development, speed and positive approach. I just wanted to be a part of the history and to be a part of change. It is something that excites me," said Drakeford.
Having worked in China for some nine years now, Drakeford has observed the changes in Chinese lifestyles and the increasing desire for a quality life. Many brand-name companies consider China to be a key business destination to support business growth.
A report from Deloitte Touche Tohmatsu Ltd suggested that annual revenues from commodities in China reached 15 trillion yuan ($2.35 trillion) in 2010, an increase of about 14.8 percent from 2009.
Ikea entered the Chinese market in 1998 and now operates 10 stores around the country. As a global retailing giant, Ikea was criticized for being too conservative in developing in China. However, the Swedish company said the market strategy is good for creating a solid customer base and good for the management to better understand the Chinese market.
From 2011, Ikea said it would accelerate expansion in China because it has successfully tested the water. Ikea said it has a better understanding of the market and is ready to move fast to capture more of it, not only in mega cities but also in some second-tier cities.
Drakeford said she was satisfied with results from the new store that opened in Pudong, Shanghai, last June and added outcomes were within expectations.
"We are happy with the performance. We can see we are converting many visitors to customers. They spent what the customers spent so the basket size is extremely strong. Quite often, basket size takes time to build. It is interesting with this store that almost immediately the basket size in this store was similar to the biggest basket size in Beijing and the other Shanghai store," said Drakeford. "This is a new market, new visitors and new customers, so there is very little cannibalization of the store in the Xuhui district of Shanghai."
In the 2010 financial year, Ikea China reported sales revenue of 4.9 billion yuan, an increase of some 20 percent from the previous year. Some 31 million customers visited Ikea stores in China in 2010, an increase of 20 percent on 2009. Some stores in China ranked as the most profitable stores on Ikea's global map.
Like many other companies in China, localization is a process that Ikea has considered carefully. At the same time, Ikea is seeking a balance between Chinese culture and Ikea values. Drakeford said that the motto "be very Ikea" is one of the factors that contribute to its success.
"We might have functions or products that are right for Chinese people or for new countries, but they always have the identity of being Ikea. They are always simple in design and functional," said Drakeford.
The idea was also promoted in designing Ikea's personnel policy and helps the company choose the right people. She said Ikea would not compromise in selecting the right person.
"We are a value-based company, so people who share the same values will work with us. We are looking for people who are open-minded and can work together to make something better," said Drakeford. "We are looking for people who do want to contribute and want to do more than just sales figures."
She said that a large element of Ikea's values is strongly matched with Chinese culture. However, in some parts, she and her team must lend support to make personnel a better fit for their position and suitable for Ikea's development.
"We have a learning-by-doing culture and allow staff to make mistakes. However, Chinese are frightened of making mistakes. It is also our responsibility to create an environment within the organization in which people feel it is OK to make mistakes," said Drakeford. "We believe people learn much more from a mistake than always doing things right."
Although working in a culture different from her own, Drakeford said she did not intentionally change her management style to fit in with Chinese culture.
"It is about Ikea in China in the same way as it is Ikea in the UK or Ikea in the US. The environment blends with local culture, but what is true to Ikea always should be kept. I believe we can be Ikea, we can do things in an Ikea way. We take the best from Ikea and the best from China and make a success," said Drakeford.
As foreign home products design and retailing companies develop in China, Ikea has targeted the young middle class in China who are keen to enjoy a quality life and are also willing to replace old home products with new items. However, she said the huge diversity in customers' demands and affordability remain challenges for her as a retailing president. She said retailing and management experience from the overseas market might not be helpful.
"Some things that work in Western countries may not work in China," said Drakeford.
"In the West, consumers are very sophisticated. China has a high consumer base but it has people who are sophisticated and have been consuming for decades and also people who have just started to buy new goods, so the diversity in China is huge. It is about managing different expectations and different diversity," said Drakeford. "It is something you get in China but you do not get it elsewhere in the world."
Another factor that concerns her is that incomes are at a level that makes most Chinese price sensitive. The furniture maker is considered to be a provider of affordable products in Western countries. However, it is considered high-end in China.
To make Ikea an affordable brand for Chinese customers and enlarge the buying base, she said Ikea has strengthened relationships with some local suppliers and hopes the consequent increase in production volume could help to lower prices. Some products sold in Ikea stores in China are said to be the cheapest in its global market. She said some 30 percent of the Ikea range was manufactured in China.
When Ikea accelerates expansion in China, Drakeford said the number of local suppliers will increase but it will not affect the quality of Ikea products. She said that, based on her experience, consumers may check the label to see where products are made. However, it is not a big factor that will affect customers' choices.