'Reshoring' firms head for home
Updated: 2012-01-11 10:38
By Ariel Tung (China Daily)
| | | | | | | | | | | |
| --- | --- | --- | --- | --- | --- | --- | --- | --- | --- | --- |
|   | | Comments() | | Print | | Mail | | Large Medium  Small | 分享按钮 | 0 |
Rising incomes and higher cost of production prompt moves by foreign firms
NEW YORK - Almost three years ago, Peerless Industries Inc, a United States-based maker of audio-visual mounting solutions, made an unusual decision - it pulled its production out of China to build a new plant in the US. The company predicted that its production costs in China would eventually outweigh those in the US.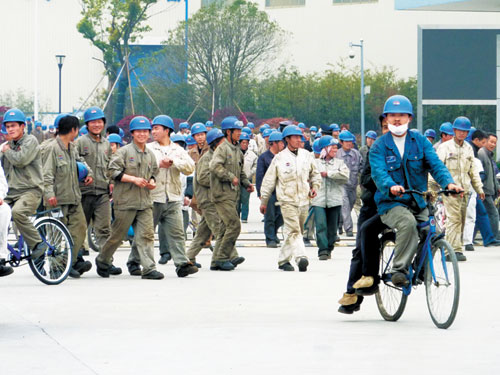 Workers finish a shift at a factory in Ningbo in East China's Zhejiang province. Chinese labor costs, particularly in the eastern coastal regions, are rising.[Photo/China Daily] 
Peerless did not have to wait long to discover if it had made the right call. The company has confirmed that the decision was correct. Michael A. Campagna, president and chief operating officer of Peerless, said that the company is now more competitive in terms of costs.
"The labor costs in China are rising, even more so now than when we left. We quoted some new projects this year to double-check costing in China and we discovered that they have gone up since we left," said Campagna.
According to a recent study conducted by Boston Consulting Group (BCG), rising wages, shipping costs and land prices in China - combined with a strengthening yuan and a weaker dollar - are narrowing the cost gap between China and the US for many goods produced for US consumers.
As a result, a trend of US companies moving production from China to the US has begun in recent years. Besides Peerless, the BCG study also cites Ford Motor Co, The Coleman Co, NCR Corp and Outdoor Greatroom Co as having moved their production bases. These days, it may be more economical for US manufacturers to stay at home, especially when their products serve the US consumer, said Harold L. Sirkin, one of the authors of the study and a senior partner and managing director at BCG's Chicago office.
"Because Chinese labor costs are rising very rapidly, US companies should examine their options. They understand that a manufacturing plant will last for 20 years, so they should look down the road five years from now," said Sirkin.
China's cost advantage over the US will erode by 2015, according to Sirkin.
"Labor costs in China rise by around 15 to 20 percent a year. If that continues, it may change the equation. Also think about what will happen to the yuan. It appreciates about 4 percent per year. If this continues, it will appreciate 20 percent in five years," he added.
The US manufacturing sector has been on an upswing, according to the Washington-based National Association of Manufacturers (NAM). Chad Moutray, NAM's chief economist, said this trend in "reshoring" - the term used to describe overseas companies moving their production back to their country of origin - has been going on longer than previously noted. Moutray said that it is "very natural" for US manufacturers to now consider production in their home country.
Reshoring going on
"We talked to many of our member companies and they told us that costs are increasing in China. At the same time, the dollar has gotten weaker. Some of them say it's now cheaper to manufacture here than to ship their production from China," said Moutray.
Although production is expected to move away from China to lower-cost countries such as Vietnam, the US is now "part of the conversation", according to Moutray.
The US is considered a good choice and "a lot of it has to do with the productivity gain in US manufacturing", Moutray said. Also, many of the lower-cost countries such as Vietnam and India lack the infrastructure and skilled talent pool that manufacturers require.
"If another country is doing what China did, businesses will go there. China has built an incredible infrastructure, ports, and roads. It has built a good system to train its workers," said Sirkin. "India struggles with infrastructure. Vietnam's infrastructure is still very weak and no way near China's."
At present, about 95 percent of Peerless' products are made in the US. The company aims to bring the rest of its production back to the US by the middle of 2012.
"We started to look at Vietnam and India, but at this point in time these two countries do not have proper infrastructure facilities such as roads and logistics. It may take place five or 10 years later. Probably nothing is going to happen. But it's not going to affect us. We made the strategic decision to move our production to the US," said Campagna.
In late 2009, Peerless closed its facility in China, which accounted for at least 30 percent of its output, and relocated its two operations in Melrose Park, Illinois, to a single large facility in Aurora in the same state. Consolidating its plants in one area helped the company to reduce costs even further, said Campagna.
He said that rising labor costs in China mean Peerless will be even more competitive against Chinese manufacturers.
"A few years ago, production costs in China were 15 to 20 percent lower. Now, our costs are pretty much the same, if you factor in the shipping and delivery costs. In four years' time, our costs could be lower than in China," he said.
Rising demand in China
The rising level of incomes in China means that Chinese consumers will have more money to spend, which may translate into rising demand for consumer products.
According to the BCG study, factories built in China will increasingly only serve domestic consumers and those in the larger Asian market.
Just as US companies will be prompted to build plants at home to cater for domestic consumers, it will be beneficial for multinationals to produce in China simply to satisfy domestic demand, said Sirkin.
NCR had the same foresight: the company opened a new plant in Columbus, Georgia in 2009 to focus production of its automated teller machines (ATM) in the North American market, although it already has plants in China, India and Hungary. In July, the company introduced a second production shift at its Georgia plant because of increased demand for its products.
The reason for opening the new US plant was to reduce freight costs and the time involved in moving the ATMs from one place to another, according to Erin Farrell Talbot, the company's spokesperson.
"We did not lay off people in China. Our production in China is focused on that region. We are definitely seeing massive growth in China," said Talbot.
Caterpillar Inc recently built a new plant in Victoria, Texas, to produce hydraulic excavators in the US. It also plans to increase its excavator capacity at its existing facility in Xuzhou in East China's Jiangsu province to support the growing demand for its products in China.
Caterpillar's spokesperson Jim Dugan said that the company is not moving work back to the US from China, but rather, it is growing in both countries.