Hiring of lobbying firm hints at Yahoo interest
Updated: 2011-12-30 07:38
By Paritosh Bansal and David Ingram (China Daily)
| | | | | | | | | | | |
| --- | --- | --- | --- | --- | --- | --- | --- | --- | --- | --- |
|   | | Comments() | | Print | | Mail | | Large Medium  Small | 分享按钮 | 0 |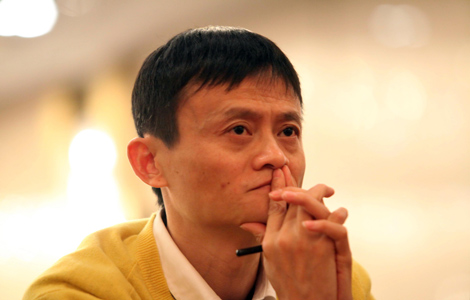 Jack Ma, chairman of Alibaba Group Holding Ltd, at a news conference in China this year. Alibaba has hired a Washington lobbying firm as part of a possible bid to own Yahoo Inc, which has a roughly 40 percent ownership in Alibaba. Alibaba earlier failed to buy back the part of itself that is owned by the US-based Internet portal. [Photo / China Daily]
Alibaba looking to purchase US Internet portal's Asian assets
WASHINGTON / NEW YORK - Alibaba Group has hired a Washington DC lobbyist, a decision signalling that the Chinese company would be willing to make a bid for all of Yahoo Inc in the event that the company's talks to unwind their Asian partnership fail.
Japan's Softbank Corp, which owns a 30 percent stake in the e-commerce company Alibaba and is a partner in Yahoo Japan, is also listed as an Alibaba affiliate in a disclosure from Duberstein Group Inc, a lobbying firm.
The founder of Alibaba Group, Jack Ma, said in September that he was eager to buy all of Yahoo if that opportunity presented itself.
Hiring a Washington DC lobbying firm could help Alibaba respond to any US political opposition to a complete takeover of Yahoo.
Chinese companies, such as the telecommunications giant Huawei Technologies Co, have run into opposition when they have tried to buy US assets over the years.
"The national security concern is sometimes just an excuse for commercial concerns for any country, but certainly for the United States," said Mark Natkin, managing director of the Beijing-based consulting company Marbridge Consulting.
"I don't think there should be a big concern (about Alibaba buying Yahoo). Users may share or keep as much data as they like.
"If they subscribe to Yahoo and (they know) Yahoo is owned by a Chinese company, they are going to have to make the decision themselves," Natkin added.
Alibaba, Softbank and Yahoo have been looking to unwind their complex web of relationships. Alibaba retained Duberstein in the fall, when it was discussing a proposal with private equity firms to carve up Yahoo, a source familiar with the matter said.
While they would make a bid together for the whole company, the idea was for the buyout firms to take over Yahoo's US operations and for Alibaba and Softbank to get the Asian assets.
But a buyout of Yahoo has now become less of a priority. The US Internet company is considering a proposal that would have only to do with the Asian assets that Alibaba and Softbank want.
That plan, valued at roughly $17 billion, would reduce Yahoo's 40 percent stake in Alibaba and get Yahoo out of Yahoo Japan, sources told Reuters this past week.
Yahoo is exploring proposals to revamp its business in the face of competition from Internet heavyweights such as Google Inc and Facebook.
Investors have long said Yahoo's investment in Alibaba, along with its 35 percent slice of Yahoo Japan, are far and away the US company's most prized assets. Yahoo has a market value of about $20 billion.
Earlier in December, the Thomson Reuters publication Basis Point reported that a handful of lenders are looking at making a $4 billion loan to Alibaba, money that will help the company buy back part of the 40 percent stake Yahoo owns in it.
Lobbying company
The filing marks the first time Alibaba has registered to lobby the US government, according to a search of congressional records.
The Duberstein Group is headed by Kenneth Duberstein, a former White House chief of staff under US President Ronald Reagan. Its other clients include BP America Inc, Goldman Sachs & Co and Pfizer Inc.
The lobbying registration lists the law firm Wachtell, Lipton, Rosen & Katz, which specializes in mergers and acquisitions, as an intermediary between Alibaba and the company's lobbying team.
The registration was received by a US Senate office on Dec 23 and then posted online, but the lobbying work likely began earlier.
Under US law, a lobbying firm is required to file a public disclosure within 45 days of certain events, such as the first time contact is made with a public official. The filing for Alibaba says it took effect on Dec 1.
Messages left with the Duberstein Group and Wachtell were not immediately returned on Wednesday.
Reuters