Manufacturing to stay pivotal
Updated: 2011-12-20 09:49
By Yang Ning (China Daily)
| | | | | | | | | | | |
| --- | --- | --- | --- | --- | --- | --- | --- | --- | --- | --- |
|   | | Comments() | | Print | | Mail | | Large Medium  Small | 分享按钮 | 0 |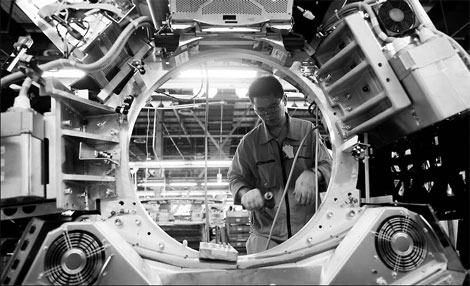 An employee at the General Electric Co healthcare unit's production facility assembling medical magnetic-resonance imaging (MRI) devices in Beijing. [Photo/Bloomberg]
Deloitte Touche Tohmatsu says there will still be many challenges, pressures
BEIJING - China will remain dominant in the manufacturing industry in Asia over the next three to five years, according to a report released by accountancy firm Deloitte Touche Tohmatsu Ltd.
However, the industry still faces many challenges and pressures including tax burdens, domestic market expansion, intellectual property rights and the need to improve internal operational ability, said the report.
In 2010, the value of China's manufacturing output was $1.995 trillion, accounting for 19.8 percent of global manufacturing output, according to global economic consultancy IHS Global Insight.
The country overtook the United States as the world's largest manufacturer for the first time last year, it said.
"The main driving forces of the competitiveness of China's manufacturing industry are the abundant labor resources that can adapt to the structural changes of the industry, the quality of infrastructure and the Chinese government's continuous and well-planned support for technology research," said Rosa Yang, national leader of manufacturing industry at Deloitte China.
From 2011 to 2020, China will provide a total labor force of more than 69 million people possessing junior college education or above, which can help the country's manufacturing industry to move up the value chain ladder, according to the report.
"We estimate that in the coming 10 years, IT, machinery, chemical and other manufacturing enterprises that have a higher requirement for the quality of their labor forces will enjoy a sufficient supply of workers," said Yang.
Conversely, traditional labor-intensive manufacturing industries such as those making clothes, shoes, hats and other simple finished products, will experience labor shortages and rising labor costs, she added.
The industrial productivity of any country is closely related to its infrastructure. China's sufficient power supply, highly developed highway and railway networks, the world's No 1 port throughput, extensive communication networks and a social system supporting the effective operation of these infrastructures provide a favorable basic environment for the nation's manufacturing enterprises, said the report.
Based on interviews with senior executives from 150 medium and large Chinese manufacturing companies, the report found that 56 percent of senior Chinese executives positively appraised China's infrastructure construction. However, the demand for better infrastructure is increasing.
In consequence, the Chinese government has launched big investment programs, including the expansion of the railway network, which is already the biggest in the world, to 120,000 kilometers by 2020. It is also investing 3.45 trillion yuan ($540 billion) in building a smart grid in the coming decade and aims to complete the expressway network to 85,000 kilometers by 2020, it said.
China's official Purchasing Managers Index (PMI), which measures manufacturing activity and provides a gauge of overall economic expansion, dropped to 49 percent in November, down 1.4 percentage points from the previous month, according to figures released by the China Federation of Logistics and Purchasing.
A PMI reading of 50 percent demarcates expansion from contraction. The November reading indicated contraction in the country's manufacturing industry for the first time since its last reading below 50 percent in February 2009.
More than half of the executives surveyed considered the burden of taxation as the biggest difficulty in operating their business.
China currently ranks 31st on the tax burden list among the documented 209 countries and regions around the world, Deloitte reported, citing data from the World Bank.
"At present, China's manufacturing industry is attempting to shift to the high end of the global value chain, in which enterprises need to make huge investments for technological innovation and market exploration. An excessive tax burden would affect corporate income from these two areas and their development," said Po Hou, a partner in strategy and operations practice at Deloitte China.
China's manufacturing enterprises expressed ambivalence about the current intellectual property environment. They acknowledge the country's laws on intellectual property rights but lack confidence in the performance of China's current intellectual property protection, according to the report.
The survey results also showed that private Chinese enterprises are mostly concerned about growth, while other manufacturers, both State-owned and multinationals, care more about how to continuously innovate products and services.
"This is partly due to the fact most of China's private enterprises are still in their infancy so have to prioritize corporate subsistence and growth. Other companies boasting a larger scale are confronted with severe homogenized competition. Product similarity usually results in profit decline," said Hou.
"Their biggest challenge at the moment is how to continuously innovate products and services and explore new market segments," he added.
Looking forward, the seven strategic new industries proposed by the Chinese government clearly pointed out the new direction for the development of China's manufacturing industry, said the report.
In the country's 12th Five-Year Plan (2011-2015), energy-saving and environmental protection, new-generation information technology, biology, high-end equipment manufacturing, new energy, new materials and new-energy vehicles are regarded as China's seven strategic emerging industries.
The percentage of added value of the seven industries in terms of gross domestic product will ideally be 8 percent in 2015 and around 15 percent in 2020, with a significantly improving ability to absorb and drive employment, according to the government's documents.
"The successful development of these seven industries will play a key role in China's transformation from a manufacturing giant to a manufacturing power," said Yang.