Informal funding 'can support' real economy
Updated: 2011-12-16 09:21
By Wang Xiaotian (China Daily)
| | | | | | | | | | | |
| --- | --- | --- | --- | --- | --- | --- | --- | --- | --- | --- |
|   | | Comments() | | Print | | Mail | | Large Medium  Small | 分享按钮 | 0 |
BEIJING - Informal finance can be a "helpful" tool to support the development of the real economy, said People's Bank of China Governor Zhou Xiaochuan on Thursday.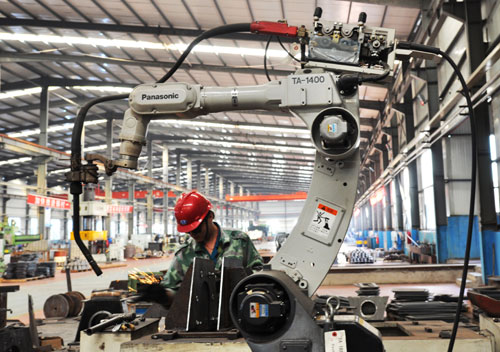 A worker welds equipment at a factory in Shandong province. A top policymaker said China must focus on the growth of the real economy and discourage speculation.[Photo/China Daily] 
"If it can bring its advantage of better access to information, then it can become a helpful supplement to formal finance and the real economy," he said at a forum held by Caijing magazine.
Regulators have been unsettled by events in some areas such as Wenzhou, Zhejiang province, where entrepreneurs involved in underground banking and usurious lending could not repay their debts, causing financial disorder.
"Those illegal activities (usury) will not be protected," Zhou said. "Those engaged in informal finance should play a positive role in supporting the real economy."
Zhou urged the financial sector to provide more support for the real economy, and he said that regulators should be wary of financial products that don't serve that purpose.
"When we develop a financial product, the first thing we should take into consideration is whether the real economy needs it. If only some financial traders care about the product, that means it is too far removed from the real economy."
China must concentrate on the growth of the real economy and fend off speculation, said Yang Weimin, deputy head of the Office of the Central Leading Group on Financial and Economic Affairs, a government policy-making body.
In the first year of implementing the 12th Five-Year Plan (2011-2015), "one thing we need to watch carefully is that there have been signs that our economy is escaping away from the real economy", said Yang.
He said that the solid foundation of China's real economy had minimized its pain from the global financial crisis, compared with its Western counterparts.
However, starting this year, many enterprises, both private and State-owned, had become reluctant to concentrate on their core businesses and turned to "speculation" on capital in the asset markets.
Financial institutions were hardest-hit by the financial crisis, and their insufficient support of the real economy has been sharply criticized, said Zhou.
He said private financing could be an efficient supplement to the real economy, due to its advantages in rapid information flows between lenders and borrowers.
"We are very glad to see that the Central Economic Work Conference has encouraged enterprises to develop the real economy and cool down the virtual economy as well as the real estate sector," said Wang Tao, head of China economic research at UBS Securities Co Ltd.
She said that increasing land prices might dampen the enthusiasm and ability of companies to develop their business.
Other long-term structural problems such as the distortion of energy prices and excessive government intervention in resource allocation would also restrict the development of the real economy.
Wang said that the most important task facing China is to restructure its economy for sustainable growth, given the long-term weakness of external demand caused by debt crises in the developed world.
Shoring up domestic demand in the world's second-largest economy will be a "strategic basis" for the nation to stay on the track of sustainable growth, said Zhou.