China conducts its first jet biofuel trial
Updated: 2011-10-29 08:09
By Xin Dingding and Wang Wen (China Daily)
| | | | | | | | | | | |
| --- | --- | --- | --- | --- | --- | --- | --- | --- | --- | --- |
|   | | Comments() | | Print | | Mail | | Large Medium  Small | 分享按钮 | 0 |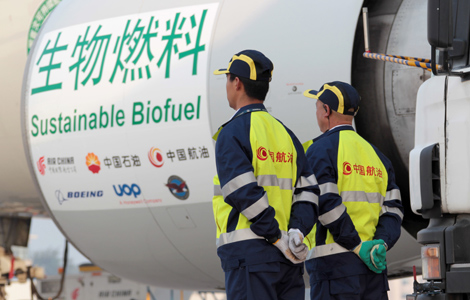 A Boeing 747 about to be filled with a biofuel blend at the Beijing Capital International Airport on Friday. [Photo / China Daily]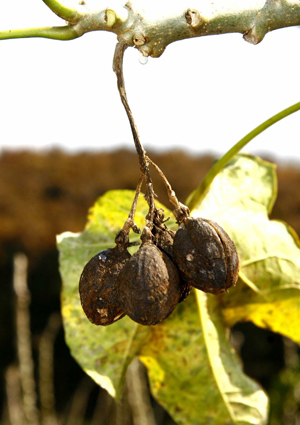 The fruit of the jatropha plant. Oil extracted from the fruit's seeds can be used to make biofuel. File photo
BEIJING - China conducted its first demonstration flight powered partly by a biofuel on Friday, possibly paving the way for future biofuel use on commercial flights in the country.
The one-hour trial used 13.1 tons of biofuel blend - half conventional jet fuel and half China-grown, jatropha-based biofuel - to power one of four engines on an Air China 747-400 jet.
Each of the jet's other three engines was powered by conventional jet fuel to guarantee safety, said Li Jun, an expert with Air China.
The plane took off from Beijing Capital International Airport at 8:32 am and returned at 9:30 am. Six performance tests were conducted at various altitudes, with the highest at 11,900 meters.
"Everything went smoothly," Zheng Weimin, the captain of the flight, said. "I detected no obvious difference in engines powered by the biofuel blend and conventional jet fuel."
The trial was part of a Sino-US energy cooperation program and marked a milestone in the two countries' joint efforts regarding biofuel and high technology, said William Zarit, minister counselor for commercial affairs at the US embassy.
In the project, PetroChina Co Ltd, China's largest oil producer, worked with UOP LLC, a subsidiary of Honeywell's special materials section, to source and refine the biofuel. Boeing and Pratt & Whitney provided aircraft and engine technical support.
For China, the demonstration flight was a significant step in the development of the jet biofuels industry, said Shen Diancheng, deputy general manager of China National Petroleum Corporation. PetroChina is the corporation's listed arm.
However, airlines said wider use of biofuels on commercial flights in China was still a few years away.
He Li, vice-president of Air China, said that using biofuels on commercial flights required large-scale production to make the price acceptable.
Zhang Yufeng, vice-president of Honeywell's specialty materials section, said raw materials were a big problem.
"The material cost means that the price of biofuel is much higher than traditional fuel," he said.
The material cost for biofuel was about two or three times that of conventional fuel, he said.
Shen said PetroChina has grown 80,000 hectares of jatropha, a shrub, on low-quality farmland in Southwest China's Sichuan and Yunnan provinces since 2007. Oil from the seed of the shrub is extracted for the biofuel.
The company was planning to build a refinery by 2014 to produce 60,000 tons of the biofuel annually. But that amount is trivial compared to the estimated 28 million tons of biofuel China will use annually by 2015.
The company was looking for more places to grow the plant and increase output, Shen said.
Before China's first trial flight using a biofuel, airlines including Virgin Atlantic Airways, Air New Zealand, Continental Airlines and Japan Airlines, have conducted similar trials since 2008, using a variety of biofuels, including those made from coconuts, algae, waste cooking oil and jatropha.
This year, carriers including KLM Royal Dutch Airlines, Lufthansa and Mexico's Interjet carried out commercial flights powered by biofuel blends.
Airlines began seriously looking at potential new fuel sources because of increasing environmental concerns and rising crude oil prices, industry observers said.
Aviation's share of greenhouse gas emissions is poised to grow, as air travel increases and ground vehicles use more alternative fuels such as ethanol and biodiesel. Aviation contributes 2 percent of global emissions.
Compared to fossil fuels, biofuels can help reduce greenhouse gas emissions by up to 85 percent, according to statistics provided by Honeywell's UOP.
The Qingdao Institute of Bioenergy and Bioprocess Technology and Boeing Co have established a joint research lab studying sustainable aviation biofuels based on algae.
On Friday, China's National Energy Administration and Boeing signed an agreement for further study of regional biofuel development. The results will help support future efforts to establish a sustainable aviation biofuels industry in China.