'Golden fingers' cultivate his career
Updated: 2011-10-27 11:28
By Zhou Siyu (China Daily)
| | | | | | | | | | | |
| --- | --- | --- | --- | --- | --- | --- | --- | --- | --- | --- |
|   | | Comments() | | Print | | Mail | | Large Medium  Small | 分享按钮 | 0 |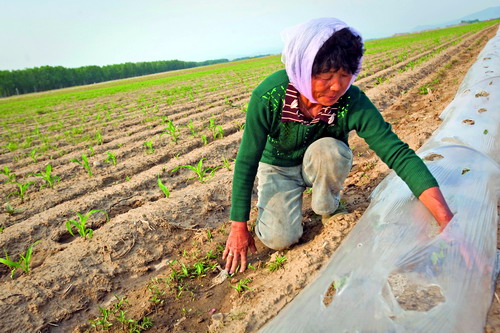 A farmer tends to her crops in Hunchun, Jilin province. [Photo/ Bloomberg]
Seed expert pioneers new technique in Chinese farming
BEIJING - In China's seed industry, Liu Shi is known for his "golden fingers". For nine years he worked in the top position at Monsanto Far East Ltd, the company's China division, where its cotton seeds laid claim to 95 percent of China's market share at the time.
Liu then spent eight years at Pioneer Hi-Bred International Inc, a subsidiary of DuPont de Nemours, during which time the company's corn seeds were sown in more than 2 million hectares of the country's corn fields.
In 2010, he joined Yuan Long Ping High-Tech Agriculture Co Ltd, one of China's major players in the agriculture sector. Within one year, the company's net profit was doubled.
Besides "good luck", Liu attributes his successes to his perseverance and natural instinct for adventures. After graduating from university, he traveled 2,000 kilometers alone on a bicycle from Beijing to Shanghai.
The same adventurous spirit prompted him to jump on a train to Germany in 1987 with only 800 yuan ($125) in his pocket. He could not afford a return ticket.
The train journey took eight days and nights. It was as stuffy as a prison. But he knew, when the doors finally opened, there was a whole new world outside.
Liu's principal reason for going to Germany was to study law, but in so doing he acquired discipline. "Punctuality and exactitude - these are what I learnt from the German people. It exerted a powerful influence on my character," Liu said.
Five years later, in 1992, Liu gave up his studies and joined Monsanto. He opened the door for the company to China's market, and the company ushered him into a new industry.
Tough initiation
It was a tough initiation. All Liu had was an empty title, one secretary in Hong Kong and one temporary technician on the mainland. He started selling agricultural chemicals and soon his extraordinary abilities were rewarded.
Through relentless negotiation, he first obtained an import quota by cooperating with State-owned companies. He then built up a chain of warehouses and packaging centers in Hong Kong, Guangzhou and Shanghai, which reduced the time needed for transportation and distribution. Within four years, sales of Monsanto's chemicals had registered a steep increase.
But this was not enough. Since 1993, China's cotton production had been affected by worm plagues every year. Hundreds of farmers were poisoned every year in their own cotton fields, fighting against the worms with heavy use of chemicals.
During these years, Liu introduced Monsanto's genetically modified (GM) insect-resistant cotton seeds to China and set up two joint ventures with Chinese partners to produce the seeds for the local market.
Monsanto's cotton seeds soon became a market success. The move was regarded by many as the savior of China's textile industry. So far, cotton is the only GM crop that has been authorized for large-scale planting in China.
"One thing I learned during the years at Monsanto is to be creative. The company has a great culture for encouraging people to develop their creativity. I had plenty of good ideas at Monsanto and I managed to make some of them possible," Liu said.
"The supply chain and the distribution channels - it may have seemed too fantastical to realize them at the time, but I believe there is always a way, and I succeeded," he added.
In its heyday, Monsanto's cotton seeds had 95 percent of China's market share. At the same time, the US-based company was going through a deep restructuring of its business.