US VP Biden encourages Chinese investment
Updated: 2011-08-20 09:14
By Lan Lan (China Daily)
| | | | | | | | | | | |
| --- | --- | --- | --- | --- | --- | --- | --- | --- | --- | --- |
|   | | Comments() | | Print | | Mail | | Large Medium  Small | 分享按钮 | 0 |
Vice-president hopes for job growth, but Chinese firms remain cautious
BEIJING - US Vice-President Joe Biden said at a business roundtable event in Beijing on Friday that Chinese investment in the United States can provide jobs and economic opportunities.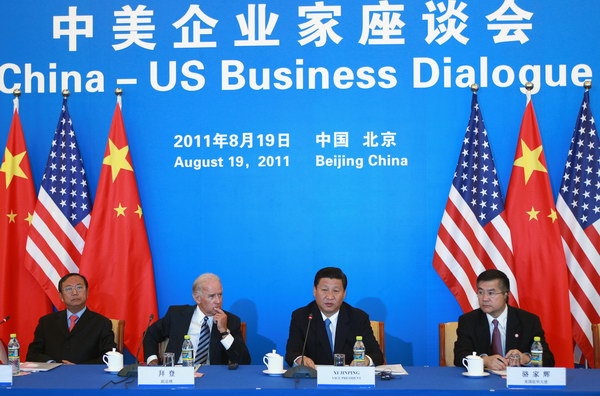 Vice-President Xi Jinping (second from right) and his US counterpart Joe Biden attend the China-US Business Dialogue in Beijing on Friday. Xi said China will provide even greater business opportunities for US companies in the next five years. [Photo/China Daily]
"President Obama and I, we welcome, encourage and see nothing but positive benefit from direct investment in the US from Chinese businesses and Chinese entities. It means jobs," Biden said.
However, a number of well-known Chinese business executives expressed concern over US debt before the roundtable event.
Wei Jiafu, president of China Ocean Shipping Group Company (COSCO), said Standard & Poor's downgrade of the US credit rating has further destabilized the global economy.
"The debt crisis has brought more uncertainty to international trade, which can significantly affect our business," he said. COSCO is the largest shipping and logistics enterprise in China.
Li Lihui, president of Bank of China Ltd, the country's largest biggest foreign exchange bank, also expressed concern.
"We are somewhat worried and hope the US dollar will remain stable," Li said. Dollar assets comprise about 56 percent of the bank's foreign currency assets.
"We are confident that the US government will be able to solve the problem as the US remains the best economy compared with other developed economies," he said.
However, a potential third round of quantitative easing by the US Federal Reserve will fuel inflation and increase liquidity worldwide, Li said.
"But it's still very hard to judge whether the US will launch another round of quantitative easing," he said.
He added that China's currency should appreciate against the US dollar, but at a gradual pace. A sudden appreciation will significantly hurt Chinese export-oriented businesses.
China, the largest foreign creditor to the US, holds more than $1.1 trillion in US Treasuries.
"Debtors should feel guilty about the devaluation of their assets," said Liu Chuanzhi, the board chairman of Lenovo Group.
"For companies like us, we have yet to feel the effect of the US debt crisis, but its influence on the economy will eventually hit individual companies," Liu said.
To help mitigate the effects, China should boost domestic consumption and make it the major pillar of economic growth, he said.
"China's increasing domestic market offers enormous opportunities for both domestic and global companies," Liu said.
The potential is huge, Liu said, adding that a large part of Lenovo's buyers are from small Chinese towns and villages.
Lenovo's investment in the US has been beneficial for improving product quality and creating more jobs in the US, he said.
"If we had not purchased IBM's ThinkPad brand, we would not be able to attract high-end consumers such as Bank of China," Liu said.
In the US, Lenovo also spends more than $4 billion annually to support local production and employs more than 2,000 people, he said.
Chinese companies have also called for better treatment in the US.
"We hope the US government can establish fair policies and provide better services for Chinese companies wishing to invest in the US," said Zhang Guangchun, senior vice-president of the solar panel company Suntech Power Holdings Co.
"The US government should lower its tariffs on solar products imported from China as increased use and maintenance of our products can promote job creation," he said.